Sear-Roasted Pork Chops & Sweet Potatoes with Hemp-Seed Pesto
Early Summer 2017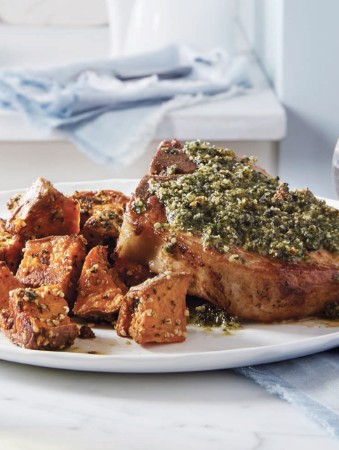 Sear-Roasted Pork Chops & Sweet Potatoes with Hemp-Seed Pesto
Early Summer 2017
BY: Jennifer MacKenzie
The nutty flavour of Canadian-grown hemp seeds is a good swap for the usual pine nuts in basil pesto, slathered on seared thick pork chops, then roasted to moist tenderness. Additional seeds add a crunchy coating to pesto-coated sweet potatoes that roast alongside the chops. Hemp oil doesn't hold up well to cooking so go for a virgin cold-pressed sunflower or canola oil—or traditional olive oil. Serve roasted asparagus or cauliflower on the side.
HEMP SEED PESTO
1 cup (250 mL) basil leaves
⅓ cup (80 mL) raw shelled hemp seeds
1 small clove garlic
⅓ cup (80 mL) freshly grated Parmesan cheese
Salt and freshly ground pepper
3 tbsp (45 mL) flavourful seed or olive oil
2 large sweet potatoes, about 2 lbs (1 kg)
2 tbsp (30 mL) flavourful seed or olive oil, divided
2 tbsp (30 mL) raw shelled hemp seeds

4 bone-in pork loin chops, 1 inch (2.5 cm) thick
Salt and freshly ground pepper
1 tbsp (15 mL) butter
1. For the hemp seed pesto, combine basil, hemp seeds, garlic, Parmesan and ¼ tsp (1 mL) each of salt and pepper in a small food processor or a blender. Process until basil is finely chopped. With the motor running, slowly drizzle oil in through the feed tube or hole in the blender lid until the pesto is fairly smooth and blended. Transfer to a bowl and season to taste with salt and pepper. (Store in a jar with plastic wrap directly on the surface and a tightly sealed lid in the refrigerator for up to 3 days.)

2. Preheat oven to 400°F (200°C). Line a large, rimmed baking sheet with foil.

3. Peel sweet potatoes, if desired, or scrub well. Cut into 1½-inch (4-cm) chunks. Combine 3 tbsp (45 mL) of the pesto and 1 tbsp (15 mL) of the oil in a large bowl; add sweet potatoes and stir to coat. Sprinkle with hemp seeds; toss to evenly coat. Spread out on one side of the baking sheet. Roast for 15 minutes while browning pork.

4. Season pork chops on both sides with salt and pepper. Heat a large skillet over medium-high heat. Add butter and remaining oil and swirl to coat. Add 2 pork chops and brown, for about 2 minutes per side, turning once. Place on a plate and brown remaining chops.

5. Remove baking sheet from oven. Place seared pork chops on sheet and spread tops with remaining pesto. Return to oven and roast for about 10 minutes or until a meat thermometer inserted horizontally in chops, without touching bone, registers 155°F (68°C). Transfer pork chops to a clean plate and tent loosely with foil to rest. Gently stir potatoes and spread out across baking sheet. Return to oven and roast for 5 to 10 minutes longer or until tender and browned.
SHARE