Seafood and Tofu Stew
Winter 2018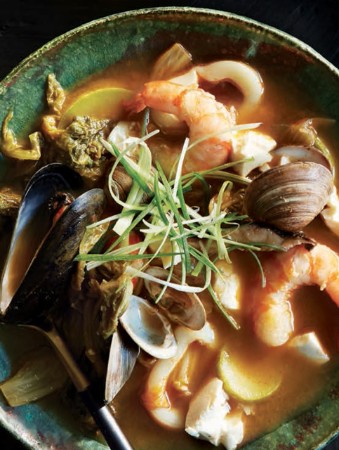 Seafood and Tofu Stew
Winter 2018
BY: Lucy Waverman
Korean zucchini is slightly larger than regular zucchini and a beautiful grey colour. It is available in Asian stores but can easily be replaced by regular zucchini. Make sure to rinse the clams and mussels and discard any that are open. If any do not open during cooking discard these as well. The best silken tofu for this dish is found in tubes at Asian grocery stores. If unavailable, any silken or soft tofu will work. Use whatever seafood you prefer.
SEASONING MIX
1 tbsp (15 mL) gochujang
1 tbsp (15 mL) soy sauce
1 tsp (5 mL) chopped garlic
1 tsp (5 mL) sesame oil

STEW
1 tbsp (15 mL) vegetable oil
1 cup (250 mL) sliced onion, about ½ large onion
2 cups (500 mL) thinly sliced zucchini
2 cups (500 mL) sliced napa cabbage, about ½ head
2 cups (500 mL) sliced shiitake mushroom caps, about 6 large
2 cups (500 mL) water
1 tbsp (15 mL) fish sauce
¼ cup (60 mL) sliced kimchi
½ lb (250 g) shrimp, shelled
½ lb (250 g) mussels
½ lb (250 g) clams, preferably pasta clams
1 pkg (440 g) silken tofu
½ lb (250 g) squid, about 2, sliced into rings
Salt

GARNISH
¼ cup (60 mL) sliced green onion
1. Combine gochujang, soy sauce, garlic and sesame oil in a small bowl. Reserve mixture.

2. Heat oil in a soup pot over medium heat. Add onion and sauté for 2 minutes or until softened. Add the seasoning mix, zucchini, napa cabbage, shiitake mushrooms, water, fish sauce and kimchi. Bring to boil then simmer until vegetables are crisp-tender, about 3 minutes. Add shrimp, mussels and clams and cook until clams and mussels have opened and shrimp is pink, about 2 to 4 minutes longer. Remove the clams and mussels to a bowl as they open. Remove remaining seafood to the bowl and keep warm. Remove clams and mussels from shells if desired.

3. Gently stir in tofu and squid. Bring stew to a boil then reduce to a simmer and cook until tofu is hot and squid is just cooked, 1 to 2 minutes. Taste for seasonings and add salt, soy sauce or sesame oil to taste. Return seafood to the stew and simmer until hot, spoon gently into a large serving bowl and sprinkle with green onion.
SHARE