Seafood and Avocado Salad
Début de l'été 2009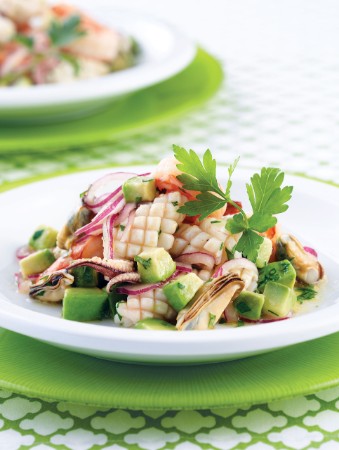 Seafood and Avocado Salad
Début de l'été 2009
BY: Jennifer McLagan
The seafood marinates in a dressing made from the cooking liquid, which is mild and flavourful. The avocado adds richness, and makes it a complete salad that needs no other accompaniment.
1 cleaned squid
3 tbsp (45 mL) plus 1⁄2 cup (125 mL) olive oil
12 cleaned shrimp
1 shallot, finely chopped
1 garlic clove, peeled, germ removed and finely sliced
2 tbsp (25 mL) plus 1 tsp (5 mL)cider vinegar
36 mussels, cleaned
2 stems of fresh tarragon
1⁄2 small red onion, peeled and finely sliced
3 tbsp (45 mL) chopped tarragon
2 tbsp (25 mL) finely chopped parsley
Sea salt and freshly ground pepper
2 avocados
1. Cut the squid body in half, lengthwise. With a sharp knife cut a criss-cross pattern onto both halves without cutting through them. Cut the body and the tentacles into 2-inch (5-cm) pieces.

2. Heat 1 tbsp (15 mL) of the olive oil in a large frying pan with a lid, over medium-high heat and add the squid and shrimp. Cook until the squid and shrimp are opaque, 1 to 2 minutes for the squid and 2 to 4 minutes for the shrimp. Transfer the cooked seafood to a bowl.

3. Add 2 tbsp (25 mL) more of the oil to the pan, lower the heat and add the shallot. Cook, stirring, until transparent and softened. Add the garlic and2 tbsp (25 mL) of the vinegar and bring to a boil. Add the mussels and tarragon stems, cover and cook until the mussels open, discarding any that don't. Let the mussels cool slightly, and then remove from the shell keeping all the cooking liquid from the mussels and the pan. Add the mussels to the seafood.

4. Strain the mussel cooking liquid into a small pan and bring to a boil. Boil until it is reduced to 2 tbsp (25 mL).

5. Let cool, then whisk in the remaining 1⁄2 cup (125 mL) of olive oil, 1 tsp (5 mL) cider vinegar, the red onion, 2 tbsp (25 mL) of the chopped tarragon and all the parsley. Season with salt and pepper and then pour over the seafood tossing to mix. Cover and refrigerate for 6 hours or overnight so the flavours can blend.

6. Bring the seafood mixture to room temperature. Meanwhile peel and cut the avocados into 1⁄2-inch (1-cm) pieces and gently mix into the salad with the remaining chopped tarragon.
Serves 6 as appetizer, 4 as main course
SHARE