Seafood Spring Rolls
Summer 2018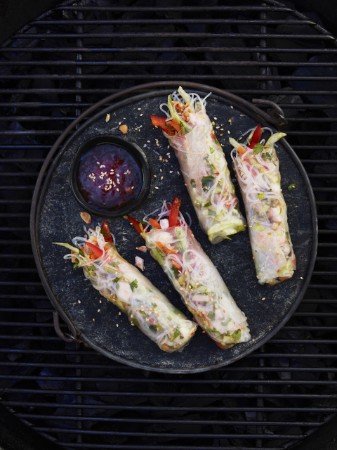 Seafood Spring Rolls
Summer 2018
BY: Signe Langford
Any assortment of leftover shellfish and seafood­­—squid, mussels, clams, shrimp, oysters, scallops, lobster or crab—can be used to make these healthy, fresh, light and crisp spring rolls. Serve with store-bought plum sauce, Thai sweet and sour dip or peanut sauce. For this recipe, we started with two leftover grilled squid tubes and 8 grilled wild shrimp. We wrapped the filling in rice papers, but you could skip the rice wrappers altogether and serve about ½ cup (125 mL) of the filling in approximately 10 iceberg lettuce "cups". Leftover grilled tofu makes a delicious vegetarian option for this dish.
3 cups (750 mL) softened glass noodles, rice stick or rice vermicelli (1 225 g pkg)
About 2 cups (500 mL) chopped, leftover cooked shellfish and/or seafood
1 red pepper, finely julienned
6 scallions, trimmed, white and tender green parts finely chopped
2 carrots, peeled and shredded, about 1½ cups (375 mL)
2 tbsp (30 mL) finely minced fresh ginger
1 to 2 tiny, hot, red or green Thai chili peppers, finely minced
½ cup (125 mL) chopped fresh coriander leaves, optional
¼ cup (60 mL) coarsely chopped salted, roasted peanuts
2 tbsp (30 mL) toasted white sesame seeds
½ head iceberg lettuce, shredded, about 2 cups (500 mL)
1 tbsp (15 mL) rice wine vinegar or freshly squeezed lime juice
1 tsp (5 mL) sesame oil
12 to 15 rice wrappers


1. Prepare rice noodles according to package directions; drain and rinse with cold water. Place colander over bowl and set aside in the fridge to cool and drain.

2. Peel and pick all leftover shellfish from their shells, coarsely chop and toss together in a large bowl. To the bowl with the chopped seafood, add the prepared and cooled noodles, red pepper, scallions, carrots, ginger, chili peppers, coriander, peanuts, sesame seeds, lettuce, vinegar and sesame oil; toss well to combine.

3. To make the rolls, set up a work space with a pan of hot water, a clean surface for filling and rolling, the bowl of filling, a clean kitchen towel and a platter for the finished spring rolls.

4. Working 1 at a time, soak a rice wrapper in the hot water for about 15 to 20 seconds (refer to package directions). When limp, transfer to the towel to blot off some of the water.

5. Transfer soft wrapper to work surface, place about 1/3 cup (80 mL) of filling just slightly lower than centre; bring up the bottom flap, then tuck in only one end, leaving the other end open to show off the colourful ingredients. Continue to roll upward, as tightly as you can manage. Set aside one by one onto the serving platter, seam-side down.

6. Serve immediately or cover with a damp clean kitchen towel and refrigerate for up to 2 hours.



SHARE