Sea-Salt Waffle BEC
Holiday 2016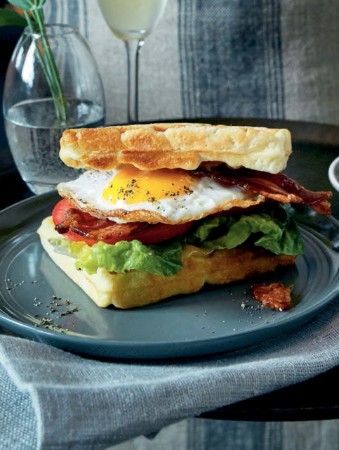 Sea-Salt Waffle BEC
Holiday 2016
BY: Victoria Walsh
Celebrate the holidays by whipping up an over-the-top bacon, egg and cheese sandwich. Strips of thick-cut bacon are candied in the oven. Top with a crisp lacy fried egg, delicate buttery lettuce and luscious tomatoes, sandwiched in freshly made savoury waffles slathered with creamy spiced aïoli and melty cheese.
CANDIED BACON
5 slices thick-cut bacon
3 tbsp (45 mL) lightly packed brown sugar

CUMIN & CRACKED PEPPER EASY AÏOLI
½ cup (125 mL) mayonnaise
1 tbsp (15 mL) freshly squeezed lemon juice
½ tsp (2 mL) each ground cumin and cracked pepper

SEA-SALT WAFFLES
2 cups (500 mL) all-purpose flour
1 tsp (5 mL) baking powder
1 tsp (5 mL) Maldon sea salt
2 large eggs
1¾ cups (425 mL) buttermilk
½ cup (125 mL) unsalted butter, melted and cooled
Vegetable oil or cooking spray


SANDWICHES
5 Gouda or havarti cheese slices, approximately sandwich-sized
Olive oil
5 eggs
5 Boston/bibb/butter lettuce leaves
1 to 2 tomatoes, thinly sliced
1 Preheat oven to 425°F (220°C).


2 Prepare candied bacon by arranging bacon slices on a foil-lined baking sheet. Sprinkle bacon with half of sugar. Turn bacon over and sprinkle with remaining sugar. Bake until bacon begins to caramelize, 8 minutes. Remove from oven to a secure heatproof surface. Using tongs, carefully turn bacon. Continue baking until caramelized and cooked through, about 8 more minutes. Let cool. When cool enough to handle, remove to plates and dab with thick paper towels to remove excess fat. Set aside until ready to use.


3 Prepare aïoli by whisking mayo with lemon juice, cumin and pepper in a small bowl.


4 Prepare waffles by whisking flour with baking powder and salt in a medium bowl. Whisk eggs in a separate bowl. Whisk buttermilk and cooled butter into eggs. Whisk egg mixture into prepared dry ingredients just until mixed.


5 Heat waffle iron. Coat with oil, if needed. Pour ⅓ cup (80 mL) batter over each waffle mould. Spread out batter using a rubber spatula, if needed. Depending on the size of your waffle iron, you may need to adjust. Close lid and cook for 7 to 9 minutes until golden. Timing may also vary. You will need to cook in batches.


6 Remove waffles to a baking sheet as they're prepared. Top 5 of the waffles with a slice of cheese. Loosely cover all waffles with foil. Keep warm in a low-temperature 150°F (65°C) oven.


7 Meanwhile, coat a large frying pan with olive oil and set over medium heat. When hot, crack in eggs. Cook until whites are crispy and cooked through while yolks are still runny, about 3 minutes. Cook all at once in 2 pans or in batches preparing sandwiches as eggs are ready.


8 Assemble sandwiches, arranging cheese-topped waffles over serving plates. Top each with lettuce, candied bacon, tomato and a fried egg. Spread remaining waffles with aïoli and then place over eggs to form waffle sandwiches.
SHARE