Scottish-Style Leg of Lamb
Holiday 2006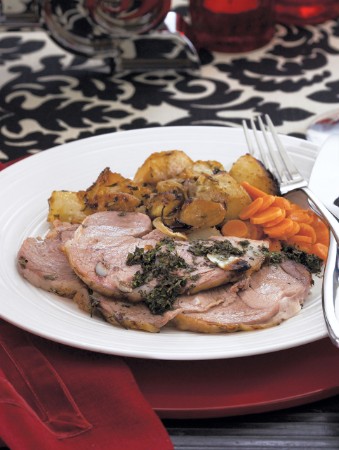 Scottish-Style Leg of Lamb
Holiday 2006
BY: Lucy Waverman
Turnips are often associated with lamb because their earthy flavour balances the richness of the meat. This is an easy, succulent one-dish lamb dinner. All you need is a vegetable and a mint salsa to serve alongside.
5 lb (2.2 kg) lamb leg, bone-in
1 tbsp (15 mL) soy sauce
2 tbsp (25 mL) olive oil
3 tbsp (45 mL) fresh rosemary, or 1 tbsp (15 mL) dried
2 cloves garlic, thinly sliced
4 cups (1 L) baking potatoes, peeled and cubed
4 cups (1 L) turnip, peeled and cubed
1 large Spanish onion, sliced
3 tbsp (45 mL) olive oil
Salt and freshly ground pepper
1. Preheat oven to 400ºF (200ºC).

2. Remove the thin layer of skin from the lamb and make slits in the fat all over.

3. Combine soy sauce and olive oil in a small bowl. Brush on the lamb. Insert the rosemary and garlic slivers into the slits in the fat.

4. Place the potatoes and turnips in a pot of salted cold water. Bring to boil and boil, uncovered, for 7 to 10 minutes, or until crisp-tender. Drain well.

5. Place lamb on a rack in a roasting pan and roast for 30 minutes. Remove lamb and the rack.

6. Toss together potatoes, onions, turnips and any remaining rosemary. Add to roasting pan, basting with any accumulated fat. Pour over the olive oil evenly and season with salt and pepper. Place the lamb on top. Bake for another 1 hour, tossing vegetables occasionally or until lamb is cooked to desired doneness. (This timing should give you pink lamb).

7. Remove lamb from oven and let sit for 10 minutes. Slice and serve with turnips, onions and potatoes.
SHARE