Scallops with Black Garlic, Aïoli & Black Lentils
Hiver 2017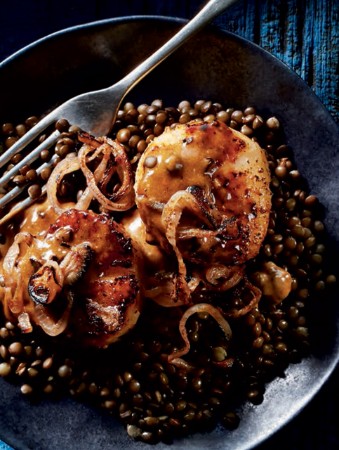 Scallops with Black Garlic, Aïoli & Black Lentils
Hiver 2017
BY: Lucy Waverman
The anchovy oil in this recipe comes from the tin of anchovies. It boosts the umami taste of the aïoli. Jumbo scallops are the large size, about 10–to the pound. Black lentils are also known as caviar lentils and lentils du puy. Although French in origin, they are now grown in Canada. Black garlic is available at Asian stores. Serve with Charred Shallots (recipe follows) to enhance the flavor of the whole dish.
LENTILS
4 cups (1 L) water
1 cup (250 mL) black lentils, rinsed in cold water
½ red onion, thickly sliced
2 cloves garlic, smashed
2 slices lemon
2 tbsp (30 mL) butter
Salt and freshly ground pepper

BLACK GARLIC AÏOLI
2 egg yolks
2 tbsp (30 mL) chopped black garlic, about 4 cloves
1 tbsp (15 mL) lemon juice
1 tbsp (15 mL) water
2 tsp (10 mL) minced anchovy (about 4 anchovies)
¾ cup (175 mL) grapeseed or olive oil
2 tsp (10 mL) anchovy oil
2 tsp (10 mL) grated lemon zest
1 tsp (5 mL) chili flakes
Salt and freshly ground pepper

SCALLOPS
12 jumbo scallops
Salt and freshly ground pepper
2 tbsp (30 mL) butter
Charred Shallots
1. Combine water, rinsed lentils, onions, garlic and lemon slices in a pot over high heat. Bring to a boil, then reduce heat to low. Cover and simmer for 20 to 25 minutes, stirring halfway through, until lentils are tender but not split. Drain. Discard onion, garlic and lemon. Reserve lentils.

2. For aïoli, whisk egg yolks, black garlic, lemon juice, water and minced anchovy together in a bowl. Slowly drizzle in grape-seed or olive oil while whisking to emulsify. Stir in anchovy oil, lemon zest and chili flakes. Season with salt and pepper. The aïoli should be thick enough to coat a spoon. Reserve at room temperature until ready to use (up to 4 hours).

3. Place lentils over medium-low heat and stir in butter. Season well with salt and pepper. Heat for about 5 minutes or until hot.

4. Pat each scallop dry and season with salt and pepper. Heat a nonstick skillet over high heat. Add butter and, as it sizzles, add scallops. Cook 2 to 3 minutes until nicely seared. Turn scallops over and turn off heat. Let sit for 3 minutes, then remove from skillet.

5. Place a scoop of lentils on serving plates. Top with scallops and spoon aïoli over each scallop. Garnish with Charred Shallots.
Serves 4 as a main course, 6 as an appetizer
CHARRED SHALLOTS

Make the shallots ahead of time and reheat in a nonstick pan for a couple of minutes when needed.

2 tbsp (30 mL) vegetable oil
1½ cups (375 mL) thinly sliced shallots(about 4 large shallots)
½ tsp (2 mL) cinnamon
½ tsp (2 mL) ground coriander
Pinch chili flakes
1. Heat vegetable oil in medium nonstick skillet over high heat. Add shallots and sprinkle with cinnamon, coriander and chili flakes. Cook, stirring occasionally, until browned and charred in places, about 5 minutes. Reheat when needed.
SHARE