Scallop, Bacon and Mushroom Brochettes with Bell Pepper Salsa
Early Summer 2006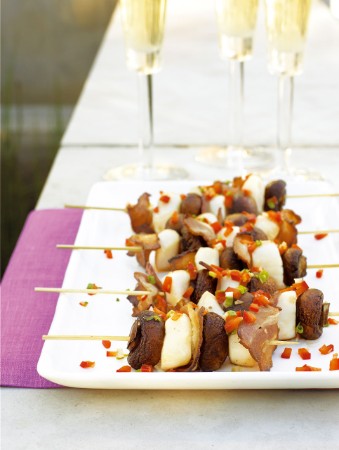 Scallop, Bacon and Mushroom Brochettes with Bell Pepper Salsa
Early Summer 2006
BY: Marilyn Bentz-Crowley
The delicate sweet scallop is deliciously complemented by the salty-smoky taste of bacon.
4 strips thick-sliced naturally cured bacon
Eight 8-inch (20-cm) skewers
1 small sweet red pepper
1 green onion
1 tbsp (15 mL) olive oil
1 tbsp (15 mL) lemon juice
1 tsp (5 mL) grated lemon zest
1 small clove garlic, minced
1/3 tsp (0.5 mL) salt
2 to 3 grindings black pepper
16 medium scallops
16 medium cremini mushrooms
1. Partially cook bacon in a large frying pan over medium heat for 4 to 5 minutes or until rendered, but not browned. Drain on paper towels. Cut each strip crosswise into 4 pieces; chill to firm. If using bamboo skewers, soak them in warm water to prevent splintering.

2. Seed and very finely chop red pepper; turn into a small bowl. Finely mince green onion; add to red pepper. Stir in olive oil, juice, zest, garlic, salt and black pepper. Set aside to marinate, stirring occasionally, for an hour at room temperature or up to half a day in the refrigerator.

3. Twice per skewer, snugly thread pieces of bacon, scallop and mushroom. Leave blunt end of skewer bare to form a handle. Cover and refrigerate until needed, up to half a day.

4. Preheat barbecue or broiler. Grill, turning frequently, for 5 to 10 minutes until bacon crisps and scallops are cooked. Place on a warm serving platter; spoon salsa overtop. Serve immediately.
SHARE