Scallop Po' Boy with Chili-Lime Fries
Summer 2011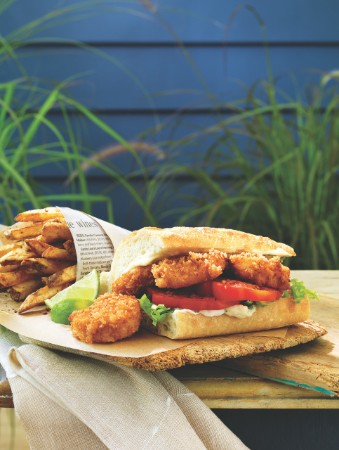 Scallop Po' Boy with Chili-Lime Fries
Summer 2011
BY: Marilyn Bentz-Crowley
Po' boy fillings vary wildly but the bread is always a crispy-crusted length of French baguette. Fries at home have never been easier, as this trendy cold-oil method turns out crispy potatoes worthy of a chip wagon and leaves the oil perfectly heated for the scallops, which are done in a few minutes.
SANDWICHES
12 very large fresh or defrosted scallops (size 10 to 20)
2 eggs
⅔ cup (150 mL) all-purpose flour
1 tsp (5 mL) sweet smoked paprika
1 tsp (5 mL) finely chopped fresh thyme
¼ tsp (1 mL) salt
Several fine grindings black pepper
1½ cups (375 mL) fresh bread crumbs
3 to 4 tbsp (45 to 60 mL) finely grated
Parmesan cheese
2 to 3 large tomatoes, preferably local heirloom variety
½ iceberg or romaine-heart lettuce
1 baguette or 2 demi-baguettes
¼ to ⅓ cup (60 to 80 mL) mayonnaise, preferably olive-oil variety.

FRIES
1½ lbs (750 g) baking potatoes
1½ tsp (7 mL) chili powder
Zest of 1 lime
Pinches of sea salt
4 to 5 cups (1 to 1.25 L) peanut oil
1 Pull off and discard any small rubbery bits on scallop sides. Cut scallops in half horizontally, which retains their round shape.

2 Pie or other deep plates are best for breading. Thoroughly beat eggs with a whisk in 1 plate. In another, mix flour with paprika, thyme, salt and black pepper. Have bread crumbs mixed with Parmesan ready on a third plate. Dry scallops with a paper towel. Dip each into flour, then egg and finally into bread crumbs. Lay slightly apart on tray. Discard egg and flour and crumb mixtures. Cover and immediately chill scallops until needed, up to half a day.

3 Near to serving, core and thinly slice tomatoes. Cut lettuce into a chiffonade (thin strips). Cut baguette into 4 longish rolls. Then cut horizontally so rolls open like hot dog buns; liberally spread with mayonnaise.

4 Leave skins on potatoes or peel, as desired. Cut potatoes into long ¼-inch (5-mm) square batons. Mix chili powder with lime zest and pinches of salt; set aside. Cut lime into wedges to serve with fries.

5 Using a chicken fryer, cast-iron pan or wide Dutch oven, pour in oil. Tip in fries; oil should cover the potatoes by about 1 inch (2.5 cm). Potatoes in oil keep well at room temperature for up to 2 hours. (Pan should be only a half to a scant two-thirds full.)

6 When ready to eat, heat potatoes in oil over high heat, stirring potatoes initially and then every 2 to 3 minutes with tongs to keep apart and from sticking to pan bottom. Bring to a rolling boil; cook 12 to 16 minutes or until fries are golden and browned. Pull off heat. Use a slotted spoon or spider to lift chips out onto a paper-towel-lined pan. Sprinkle with about half of chili powder and zest mixture; keep warm.

7 Return pot to stove; adjust heat to medium to medium-high, preferably using a deep fry thermometer to keep oil at 350° to 375°F (180° to 190°C). (Fry scallops in 2 batches if needed.) Add scallops, turning with a slotted spoon as needed. Scallops are golden and cooked in 3 to 4 minutes.

8 Line mayonnaise-coated inner roll with lettuce and tomato slices. Top with numerous scallops, dividing equally between all 4 rolls. Serve immediately with fries and lime wedges. Pass remaining chili powder and lime mixture and a salt grinder for guests to add to taste.
SHARE