Scallop Martinis
Temps des Fêtes 2006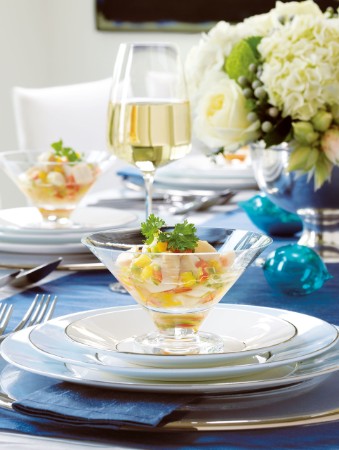 Scallop Martinis
Temps des Fêtes 2006
BY: Lucy Waverman
A sexy appetizer served in Martini glasses. Eat the scallops and drink the spicy Martini.
½ cup (125 mL) vodka
¼ cup (50 mL) lime juice
2 tsp (10 mL) chopped jalapeño pepper
1 tbsp (15 mL) olive oil
12 large scallops
Salt and freshly ground pepper
¼ cup (50 mL) finely chopped red pepper
¼ cup (50 mL) finely chopped yellow pepper
2 green onions, finely chopped
4 sprigs coriander
1. Combine vodka, lime juice and jalapeño pepper in bowl.

2. Heat oil in a skillet over high heat. Season scallops with salt and pepper and place in skillet. Sear about 2 minutes per side or until scallops are browned on the outside but still raw in the centre.

3. Place scallops on board and cut into quarters and add to vodka mixture. Let marinate for 4 hours in the refrigerator.

4. Stir in peppers and green onions.

5. Divide scallop mixture between 4 Martini glasses adding some marinade. Garnish with coriander. Serve at once.
SHARE