Scallop Kebabs with Wehani Rice Medley
Été 2008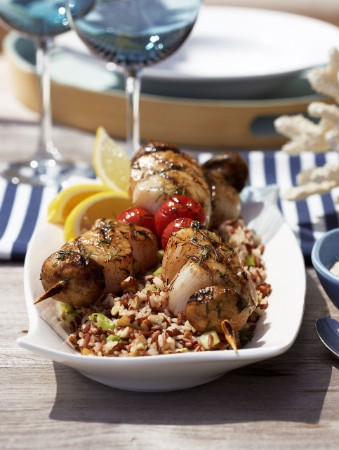 Scallop Kebabs with Wehani Rice Medley
Été 2008
BY: Marilyn Bentz-Crowley
Scallops are done in a flash! These molluscs develop in graceful flat shells that are popular as a motif and as the contents for a dinner entrée. Wehani rice is deep brown, aromatic and quite distinctive. And while the ingredient list seems long, it is only the sauce that needs to be made just before grilling the kebabs.
Rice Medley
¾ cup (175 mL) Wehani rice
3 cups (750 mL) chicken broth, divided
¾ cup (175 mL) long grain converted rice
2 green onions, thinly sliced
½ cup (125 mL) toasted pecans or slivered almonds, coarsely chopped

Scallops
Four 10-inch (25-cm) bamboo skewers
2 tbsp (25 mL) olive oil
1 tbsp (15 mL) balsamic vinegar
2 tsp (10 mL) finely chopped fresh dill
16 large or 32 medium fresh or frozen scallops, about 1 lb (500 g)
½ lb (250 g) medium-size fresh button mushrooms
½ pint (275 mL) container grape or cherry tomatoes

Sauce
1 tbsp (15 mL) butter
1 large shallot, finely minced
1 tbsp (15 mL) all-purpose flour
¼ tsp (1 mL) salt
⅓ cup (75 mL) dry white wine
¾ cup (175 mL) whipping cream
1 tbsp (15 mL) finely chopped fresh dill
Several grindings of black pepper
1. Place Wehani rice in a medium saucepan; add 2 cups (500 mL) broth. Bring to a boil, cover tightly and reduce heat so broth just simmers. Cook 45 minutes or until tender; then drain off any remaining broth. In a separate saucepan, combine long-grain rice and 1 cup (250 mL) broth. Bring to a boil; cover tightly and reduce heat to the lowest-possible point. Cook 15 minutes; pull off heat, keeping covered. White rice is cooked but firm.

2. In a warmed dish, mix both kinds of rice with sliced green onions and pecans. (Leaving out the green onion and pecans, rice medley can be made ahead, covered and chilled for a day. Gently reheat in microwave on half-power or over low heat on stove, stirring often. When hot stir in green onion and pecans.)

3. Soak skewers in warm water to avoid splintering. Combine olive oil with vinegar fresh dill. If present, remove and discard tough muscle bit on side of each scallop; marinate scallops in balsamic mixture for 30 minutes.

4. Drain scallops; reserving marinade. Alternately thread a mushroom, and then 1 to 2 scallops, a tomato, etc. until each skewer is snugly filled, ending up with a vegetable on either end. (Skewers can be covered and refrigerated for up to half a day. Refrigerate reserved marinade separately.)

5. When ready to serve, heat butter in a small frying pan over medium heat. When hot, add shallot. Sauté for 2 minutes; add flour and salt; cook 1 minute. Slowly stir in wine. Bring to a boil, stirring frequently, until mixture becomes thick and bubbles for a minute or 2. Stir in cream, bring to a boil. Gently bubble for a minute or 2; remove from heat and stir in 2 tsp (10 mL) dill and black pepper. (Press a piece of plastic wrap over surface of hot sauce if holding for longer than it takes to grill kebabs.)

6. Preheat barbecue until very hot.

7. Liberally brush kebabs with reserved balsamic mixture. Grill kebabs for 2 to 3 minutes per side, or until grill marks are evident, vegetables appear cooked and scallops are opaque. Serve on hot rice, napped with sauce and remaining dill. Serve with seasonal fresh green vegetables such as broccoli or green beans.
SHARE