Savoury Stuffed Winter Squash
Holiday 2008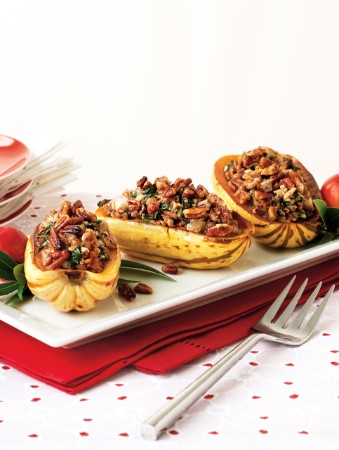 Savoury Stuffed Winter Squash
Holiday 2008
BY: Eshun Mott
This dish can be served as either a side dish or a vegetarian main course. Bulgur is made of wheat berries that have been steamed, toasted and crushed to various grinds and is not to be confused with cracked wheat (which has not been cooked at all and thus takes much longer to prepare). Delicata squash are long and thin with attractive yellow and green striped skin. Their flesh is dense, meaty and delicious. They are worth seeking out for this dish.
2 small Delicata or acorn squashes
1 tbsp (15 mL) olive oil
2 tbsp (25 mL) melted butter
Salt
¼ cup (50 mL) bulgur
1 tbsp (15 mL) butter
½ cup (125 mL) pecan pieces
2 tbsp (25 mL) olive oil
¼ cup (50 mL) chopped onion
2 tsp (10 mL) chopped garlic
6 oz (175 g) white Swiss chard, leaves and tender stems chopped separately, about 2 cups (500 mL) leaves, ½ cup (125 mL) stems
1 cup (250 mL) chopped cremini mushrooms
½ cup (125 mL) vegetable or chicken stock
½ cup (125 mL) grated Gruyère cheese
Salt and freshly ground pepper
1. Preheat oven to 375ºF (190ºC).

2. Halve squashes lengthwise and scoop out seeds. Oil a baking sheet and place squash on it, skin-side up. Bake for 40 minutes or until squash is tender and the flesh is slightly browned. Remove from oven and turn squash flesh-side up. Brush flesh with melted butter and sprinkle with salt.

3. While squash is baking, place bulgur in a medium bowl and cover with boiling water. Let stand for 15 minutes or until tender then drain off water. Set aside.

4. Melt butter in a small frying pan over medium heat. Add pecans and sauté for 2 minutes or until toasted. Set aside

5. Heat remaining 2 tbsp (25 mL) olive oil in a large frying pan over medium heat Add onion and sauté for 4 minutes or until soft and lightly golden. Add garlic and sauté for 1 minute. Add Swiss chard stems and sauté for 3 minutes or until tender-crisp. Add mushrooms to pan and cook for 2 minutes or until they are juicy. Stir in Swiss chard leaves and cook until wilted, about 3 minutes more. Add soaked bulgur to vegetable mixture and stir to combine. Add vegetable stock, turn heat to high and boil stock for 2 minutes, stirring, or until stuffing is moist but not wet. Remove pan from heat, stir in grated cheese, and ⅓ cup (75 mL) of toasted pecans, reserving about 2 tbsp (25 mL) for garnish. Season well with salt and pepper.

6. Spoon bulgur mixture into hollow of cooked squashes. Sprinkle stuffing with remaining pecans. Return to oven and bake for 20 minutes or until both squash and stuffing are hot.
SHARE