Savoury Apple & Turkey Sausage Tarte Tatin
Temps des Fêtes 2015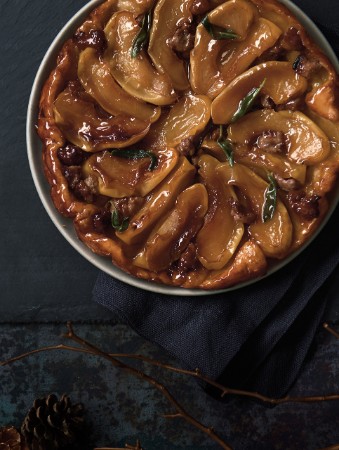 Savoury Apple & Turkey Sausage Tarte Tatin
Temps des Fêtes 2015
BY: Amy Rosen
Why not take a favourite dessert and turn it into a favourite new main course? That's exactly what I've done with this savoury tarte tatin, which is jammed with apples, turkey sausage, plus a touch of sage and sweetness. Though it looks like dessert, you serve this beauty with a side salad, not à la mode.
¼ cup (60 mL) cold unsalted butter
3 tbsp (45 mL) brown sugar
¼ tsp (1 mL) kosher salt
6 to 8 small fresh sage leaves
5 Golden Delicious apples, peeled, quartered lengthwise, and cored with a paring knife
4 lean turkey sausage links (usually found in a 450-g, 6-link pkg, meat removed from casings)
1 sheet puff pastry dough, 7½ oz (225 g), thawed but still cold. If using a brand with unrolled squares, roll out 1 square on a lightly floured surface to ¼ inch (5 mm) thick, dusting off excess flour
1. Generously butter an 8-inch (20-cm) cast iron skillet and then equally distribute remaining butter in small blobs around the bottom of the pan. Sprinkle the sugar and salt over the butter. Arrange sage leaves all around.

2. Snugly fit apple quarters into skillet in an overlapping spiral, working your way to the centre. Squeeze them in as tightly as you can. Place knobs of sausage meat on top of apples, then lay puff pastry over the sausage, tucking excess dough in around the edges, trimming away if there's still too much dough. Poke dough a dozen times with the tip of the knife.

3. Preheat oven to 450°F (230°C).

4. Place skillet over medium heat until juices start to boil. Continue cooking until there's very little liquid left in the skillet check by gently pushing the dough in from the edge with the tip of the knife. It will take 25 to 27 minutes for the apples to cook and most of the juices to evaporate, without having the bottom burn.

5. Transfer skillet to preheated oven and bake until pastry is browned on top and cooked through, 12 to 14 minutes. Remove from oven and jerk pan around to release apples from the bottom. Slide a small knife around the outer edge, making sure nothing is sticking. Let cool for 20 minutes.

6. Right before turning over your savoury tarte tatin onto a serving plate, heat the bottom of the pan over high heat for 20 to 30 seconds, jiggling it to make sure nothing is sticking. Place the large serving plate over the top of the pan, take a deep breath and flip the tarte onto the plate. Victory! Slice and serve.


SHARE