Sautéed Red Potatoes
Holiday 2013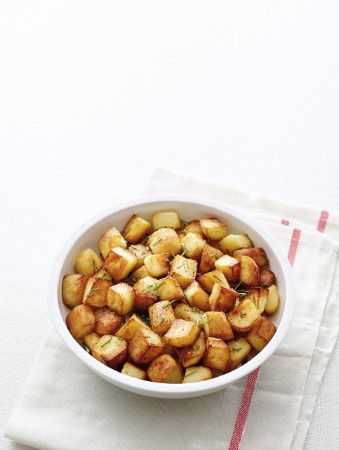 Sautéed Red Potatoes
Holiday 2013
BY: Lucy Waverman
These are basic sautéed potatoes, best as a side dish for grilled chicken or other simple dishes. Sautéeing some sausage with them makes an easy supper.
Salt
2 lbs (1 kg) red potatoes
3 tbsp (45 mL) olive oil
Freshly ground pepper
1 Place potatoes in pot with cold, salted water to cover. Bring to boil and simmer for 7 minutes. Drain and peel. Dice into 1-inch (2.5-cm) chunks.

2 Heat oil in a large skillet over medium heat. Season potatoes with salt and pepper. Add to pan and cook, turning often until browned, crisp and cooked through, about 10 to15 minutes.

VARIATIONS

• Sauté with 1 diced chorizo sausage and finish with arugula.

• Add onion when frying.

• Combine with sautéed bacon and mushrooms and top with a fried egg.

• To turn sautéed potatoes into hash browns, push them down with a spatula, keeping them flat like a pancake.
SHARE