Sautéed Purple Brussels Sprouts with Pancetta
Holiday 2014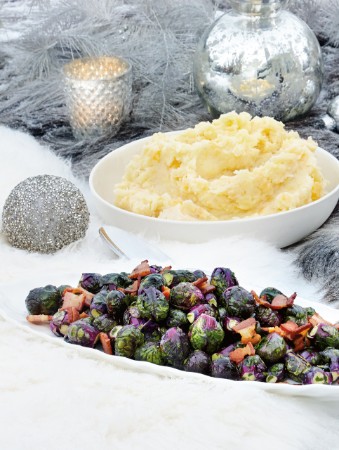 Sautéed Purple Brussels Sprouts with Pancetta
Holiday 2014
BY: Lucy Waverman
Purple Brussels sprouts taste the same as green but are prettier and smaller. If unavailable, use regular ones cut in half. These reheat very well.
2 tbsp (30 mL) olive oil
2½ oz (75 g) sliced spicy pancetta, chopped
1 lb (500 g) Brussels sprouts
Freshly ground pepper
1 tbsp (15 mL) chopped parsley
1 Heat oil in a skillet over medium heat. Add pancetta and sprouts and sauté for 1 minute. Season with pepper to taste. Cover pan and cook for 5 to 8 minutes or until crisp-tender, shaking the pan occasionally. Uncover and cook 1 minute longer. Sprinkle with parsley.
SHARE