Sautéed Chicken with Lemon Balm Masala and Roasted Plums
Early Summer 2006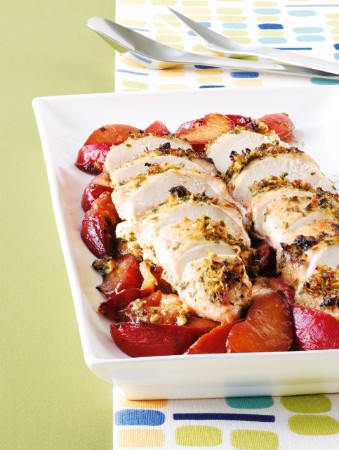 Sautéed Chicken with Lemon Balm Masala and Roasted Plums
Early Summer 2006
BY: Lucy Waverman
The curry in this dish is used for a little background texture. The dish itself is not hot. Lemon balm gives a nice lemony taste to everything. Substitute mint and add 2 tsp (10 mL) grated lemon rind if you can't find it.
2 tbsp (25 mL) chopped ginger
2 tbsp (25 mL) chopped garlic
2 tsp (10 mL) garam masala
¼ cup (50 mL) lemon balm leaves
1 tbsp (15 mL) lemon juice
3 tbsp (45 mL) vegetable oil
4 boneless chicken breasts, skin on
Salt and freshly ground pepper
4 red plums, pitted, cut into eighths
2 tsp (10 mL) balsamic vinegar
½ tsp (2 mL) sugar
1 tbsp (15 mL) olive oil
1. Preheat oven to 425°F (220ºC).

2. Combine ginger, garlic, garam masala, lemon balm, lemon juice and oil in a food processor or by hand.

3. Spread over chicken and skin, and brush inside where there is a natural opening between the fillet and the breast. Season with salt and pepper.

4. Toss plums with balsamic vinegar and sugar.

5. Place chicken breasts on a rack over a baking pan and place plums, cut-side down, in pan underneath. Sprinkle plums with olive oil. Bake for 25 minutes or until juices run clear. Remove from oven and let rest 5 minutes.

6. Place plums on serving platter and lay breasts on top.
SHARE