Sautéed Red Swiss Chard
Autumn 2009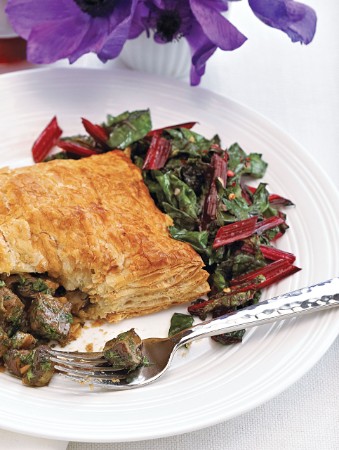 Sautéed Red Swiss Chard
Autumn 2009
BY: Emily Richards
With a sharp zing of garlic and zip of heat from the hot pepper flakes, this is a great side dish for the Mushroom Beef Bundles. Tender-crisp Swiss chard adds colour and texture to your dinner plate.
1 bunch red Swiss chard, trimmed
2 tbsp (25 mL) canola oil
4 cloves garlic, minced
½ tsp (2 mL) hot pepper flakes
Salt
1. Slice stem end of Swiss chard into 1-inch (2.5-cm) slices. Slice leaves into slightly larger pieces; set aside.

2. Heat oil in large nonstick skillet over medium heat. Add Swiss chard, garlic and hot pepper flakes and sauté for about 10 minutes or until wilted and tender-crisp. Season to taste with salt.
SHARE