Sautéed Mushrooms with Cheese Fondue Sauce
Summer 2005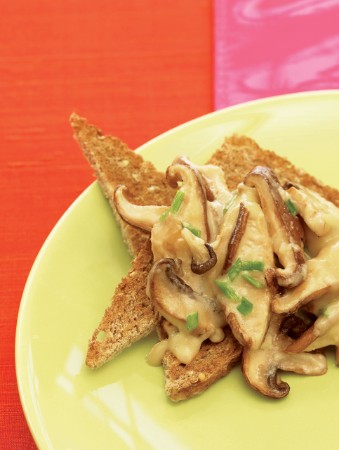 Sautéed Mushrooms with Cheese Fondue Sauce
Summer 2005
BY: Lucy Waverman
This dish is so good that recent guests wiped the plate clean. For a different presentation, combine the mushrooms and sauce with pappardelle and add a little pasta cooking water to thin it out. You could even serve it as a sauce with grilled chicken for a super-deluxe dish. Use brown cremini mushrooms as well as oysters, shiitake and any other mushrooms you can find. Italian fontina is more flavourful than other cheese varieties.
2 tbsp (25 mL) butter
1 lb (500 g) mixed wild mushrooms, sliced
Salt and freshly ground pepper
½ cup (125 mL) whipping cream
1 cup (250 mL) diced Taleggio or grated fontina
2 tbsp (25 mL) chopped chives
1 tsp (5 mL) truffle oil (optional)
Toast points
1. Heat butter in large skillet over medium-high heat. Add mushrooms and sauté for 3 to 5 minutes or until they've softened and liquid has begun to evaporate. Season with salt and pepper.

2. Add cream; bring to boil and simmer for 1 minute or until cream just coats mushrooms. Turn heat to low and stir in cheese. Cook until cheese is melted, about 2 minutes. Stir in chives and sprinkle with truffle oil, if desired. Spoon the mushrooms onto toast points or serve on a plate with forks.
SHARE