Sautéed Chicken Thighs with Wilted Spinach and Thai Rice
Printemps 2007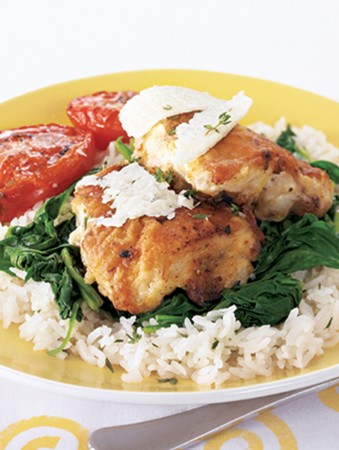 Sautéed Chicken Thighs with Wilted Spinach and Thai Rice
Printemps 2007
BY: Marilyn Bentz-Crowley
When time-pressed or merely world-weary, you'll find this simple meal comforting and delicious yet stylish enough for company. Start the chicken browning, cook the rice and lastly wilt the spinach for a complete stovetop dinner.
6 to 8 bone-in chicken thighs with skin
1 lemon
1 large garlic clove, minced
1 cup (250 mL) Thai jasmine rice
1¼ cups (300 mL) chicken broth
½ tsp (2 mL) salt
2 to 3 large sprigs of fresh thyme
½ cup (125 mL) all-purpose flour
Freshly ground pepper
1 tbsp (15 mL) olive oil
10 to 12 cups (2.5 to 3 L) baby spinach
½ cup (125 mL) freshly shaved or grated Parmesan cheese
1. Trim excess skin and loose fat from thighs. Place thighs in a glass dish. Juice lemon; stir in garlic. Pour over chicken, turning to coat. Let briefly marinate at room temperature while preparing rice.

2. Wash rice under cold running water; thoroughly drain. Place in a medium saucepan with broth, salt and thyme. Let soak while starting chicken.

3. Season flour with generous pinches of salt and several grindings of black pepper. Heat oil in a large frying pan over medium heat until very hot. Drain chicken; dredge in flour; place in hot pan skin-side down. Reduce heat to medium-low. Cook 7 to 10 minutes or until skin is well browned; rearrange chicken as need to ensure even browning. Turn chicken and continue cooking for another 10 to 15 minutes or until done. Remove to heated plate; keep warm.

4. While chicken is browning, bring rice to a boil over high heat. Cover, reduce heat to minimum; cook 15 minutes without lifting lid. Take off heat; let rest without lifting lid for 5 or more minutes.

5. Drain most of the fat from frying pan. Add spinach and a dash of water; sauté just until wilted. Remove thyme sprig from rice. Fluff rice with a fork; divide among warmed serving plates. Top equally with spinach, then thighs. Scatter with Parmesan, extra chopped fresh thyme and serve right away with sliced or broiled tomatoes.
SHARE