Sautéed Chicken Thighs with Artichokes & Lemon
Printemps 2018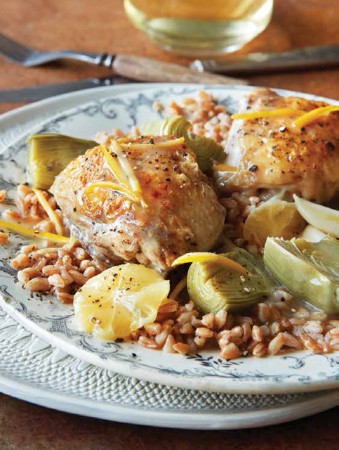 Sautéed Chicken Thighs with Artichokes & Lemon
Printemps 2018
BY: Lucy Waverman
Fresh artichokes are in season right now and the baby ones are excellent. Pretrimmed frozen artichoke hearts or baby artichokes can be found in Middle Eastern supermarkets and also work well in this recipe. If you cannot find Meyer lemon, then use half a lemon and half a mandarin or tangerine. Serve with rice or farro (emmer).
1 Meyer lemon
3 cups (750 mL) chicken stock
1 unpeeled head of garlic, cloves separated, root ends cut off
10 baby artichokes
1 lemon
2 tbsp (30 mL) olive oil
2 lbs (1 kg) chicken thighs, with skin and bone, about 6 to 8 pieces
Salt and freshly ground pepper
¼ cup (60 mL) white wine
2 tsp (10 mL) cornstarch with 1 tbsp (15 mL) water
1 Peel zest from lemon into long strips. Trim away any white pith from zest and cut into thin strips. Remove any remaining peel and white pith from lemon and cut flesh into thin slices.

2 Bring stock to boil, add garlic cloves and simmer for 10 minutes; strain stock and reserve. Cool garlic cloves slightly and slip skins off.

3 If you are using frozen artichokes, defrost and continue with the recipe. If using fresh ones, to prevent discolouration squeeze juice of 1 lemon into a medium bowl of water, reserving lemon halves. Cut top third off the artichoke with a sharp knife. Remove and discard outer leaves until the pale green tender ones are exposed. Peel and trim stem end then rub all over with lemon. Cut cleaned artichoke in half then place into bowl of lemon water. Continue with remaining artichokes.

4 Heat oil in a skillet over medium-high heat. Season thighs and fry, skin-side down, 3 minutes; turn over and fry second side 3 minutes longer until golden brown. Remove to a dish, and discard fat.

5 Add wine, reserved stock and citrus peel to skillet. Bring to a boil, scraping up bits. Drain artichokes and add to stock mixture. Scatter over reserved garlic and lemon slices. Return thighs and accumulated juices to skillet; bring to boil. 6 Reduce heat to medium-low and simmer uncovered until chicken juices run clear and chicken is tender but not dry, about 15 to 20 minutes.

7 Remove chicken, artichokes, lemon and garlic to a platter and keep warm. Bring sauce to a boil over medium heat and cook until reduced slightly, about 3 minutes. If sauce is not thick enough, combine cornstarch with 1 tbsp (15 mL) water and add to sauce. Bring to a boil, stirring. Reduce heat again and return chicken and artichokes to the sauce, season to taste.
SHARE