Sausage and Mushroom Sourdough Stuffing
Holiday 2006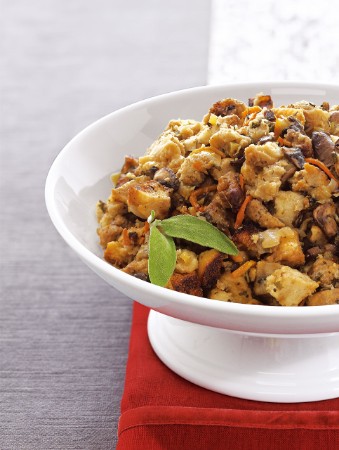 Sausage and Mushroom Sourdough Stuffing
Holiday 2006
BY: Marilyn Bentz-Crowley
Artisanal sourdough bread is denser with a thicker crust than the supermarket-bakery variety, and while both work well in this recipe, the artisanal bread must have its tougher crusts removed. Personalize stuffing by adding neat inclusions such as handfuls of dried cranberries or roasted chestnuts and using a favourite sausage such as maple, sweet Italian with fennel or English bangers.
1 to 2 large loaves sourdough bread
2 tbsp (25 mL) butter
1 cup (250 mL) diced onion, preferably Spanish
1 large stalk celery, diced
1 large carrot, julienned or grated
2 large cloves garlic
8 oz (250 g) cremini or button mushrooms, sliced
10 fresh sage leaves, finely chopped, or 1 tsp (5 mL) dried leaves
1 tbsp (15 mL) chopped fresh thyme or 1 tsp (5 mL) dried thyme leaves
1 tsp (5 mL) dried summer savoury
¼ tsp (1 mL) freshly ground black pepper
1 lb (500 g) pork sausage, casings removed
½ cup (125 mL) dry white wine
½ to 1 tsp (2 to 5 mL) salt
2 cups (500 mL) turkey or chicken stock or broth
1. Preheat oven to 350ºF (180ºC).

2. Coat sides of a 4-quart (4-L) baking dish with nonstick spray or butter. Sourdough crust can be left on or removed. (If left on, 1 large sourdough loaf is all that's needed.) Cut loaf into ½-inch (1-cm) cubes-there should be about 16 cups (4 L). (Tip: Turn bread into your baking dish or casserole to measure capacity. Bread should fill dish to brim. If necessary, select 2 baking dishes.) Spread cubes out on 2 baking sheets; bake 15 to 20 minutes, stirring once, or until golden tipped. Cool on a rack.

3. Meanwhile, heat butter in a large frying pan over medium heat. Add onion, celery, carrot and garlic; sauté 5 minutes or until softened. Add mushrooms, sage, thyme, savoury and pepper. Sauté another 5 minutes, stirring often. Cool sautéed vegetables in a large mixing bowl.

4. Without washing frying pan, return to medium heat; crumble in sausage. Sauté, stirring often and breaking up sausage as needed, for 8 to 10 minutes or until lightly browned. Add sausage to vegetables. Drain and discard fat. Deglaze pan by pouring wine into pan. Use a spatula to scrape up all the browned bits; stir in ½ tsp (2 mL) salt. Stir hot wine into sausage and vegetables.

5. Stir bread cubes into vegetable-sausage mixture in several additions until combined. Lightly pat down into dish; pour over stock. Taste stuffing; sprinkle with remaining salt if needed and stir. (If making ahead, cover and refrigerate for up to a day. Add 10 to 15 minutes to baking time.)

6. Cover stuffing and bake 40 to 45 minutes or until centre is hot. If you want a crusty stuffing, uncover for the last 15 minutes of baking. Take a bit of the stuffing from the centre of dish; if not moist enough for your taste, drizzle stuffing with additional hot stock. Garnish with a sprinkling of additional fresh herbs such as sage, thyme or parsley. Serve with turkey and plenty of gravy.
SHARE