Sausage and Apple Bread Pudding
Holiday 2009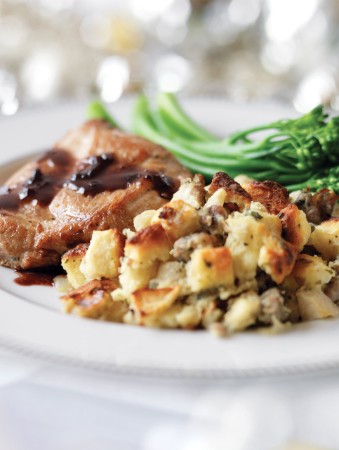 Sausage and Apple Bread Pudding
Holiday 2009
BY: Lucy Waverman
We used challah bread with great success for this bread pudding. This also makes a good breakfast bread pudding served with maple syrup and bacon.
2 tbsp (25 mL) butter
1 cup (250 mL) chopped onion
2 pork sausages, skin removed and crumbled
1 tsp (5 mL) chopped sage
1 tbsp (15 mL) chopped parsley
2 McIntosh apples, peeled and diced (about 1½ cups/375 mL)
3 cups (750 mL) cubed bread, crusts removed cut in a ½-inch (1-cm) dice
Salt and freshly ground pepper
2 eggs, beaten
¾ to 1 cup (175 to 250 mL) chicken stock
1. Preheat oven to 400°F (200°C).

2. Heat butter in skillet over medium heat. Add onion and sauté until softened, about 2 minutes. Stir in sausage meat and sauté for 2 minutes or until no longer pink. Add sage, parsley and apples and sauté 1 minute longer. Stir in bread and season with salt and pepper. Remove to bowl and cool. Add eggs and stock and stir to combine. Mixture should be wet.

3. Pack into a buttered square baking pan or medium gratin dish. Bake for 45 minutes or until puffed, cooked through and golden on top. Spoon out portions of bread pudding alongside turkey.
SHARE