Salmon on a Bed of Endives with Cheese
Automne 2006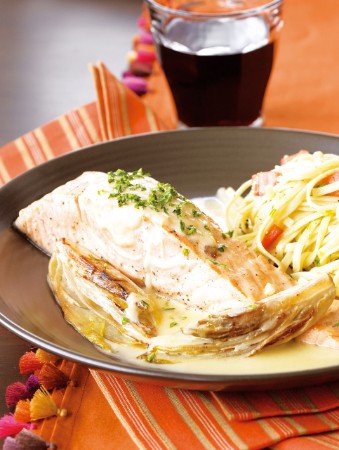 Salmon on a Bed of Endives with Cheese
Automne 2006
BY: Lucy Waverman
A quick dish that combines salmon, vegetable, sauce and cheese. French Comte cheese is a trendy melting cheese with a nutty almost caramelized taste that doesn't clump when heated. It is available at cheese stores, but substitute with Gruyère if necessary.
Four 6 oz (175 g) salmon filets, skin on
Salt and freshly ground pepper
1 tsp (5 mL) chopped fresh thyme
2 tbsp (25 mL) butter
1 tsp (5 mL) chopped garlic
4 Belgian endive, sliced lengthwise into quarters
½ tsp (2 mL) sugar
¼ cup (50 mL) white wine
1 cup (250 mL) chicken stock
½ cup (125 mL) whipping cream
1½ cups (375 mL) grated French Comte cheese or Gruyère
2 tbsp (25 mL) chopped parsley
1. Season salmon with salt, pepper and thyme.

2. Heat butter in a skillet over medium heat. Add garlic and endive and sprinkle with sugar. Cook on each side until browned, about 4 minutes total. Remove from pan and reserve.

3. Pour in wine, bring to boil and boil until wine is reduced to 1 tbsp (15 mL). Add stock and cream, scraping any bits from base of pan and bring to boil. Reduce heat to medium-low and simmer for 5 minutes or until thickened. Return endive to skillet and add salmon. Cover and simmer together for 10 minutes or until salmon is cooked.

4. Remove salmon and endive to a serving dish and keep warm. Remove skillet from heat. Add cheese to sauce and stir until melted, reheating if you need to. Taste for seasoning then pour sauce over salmon and endive and sprinkle with parsley.
SHARE