Salmon Roasted on Potatoes with Olives & Green Sauce
Autumn 2018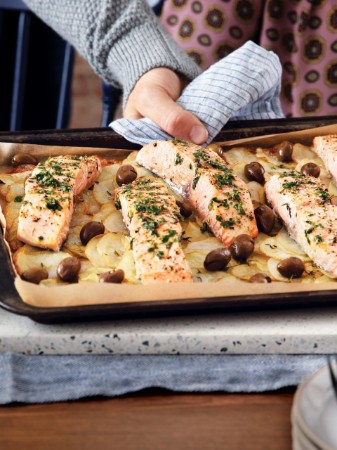 Salmon Roasted on Potatoes with Olives & Green Sauce
Autumn 2018
BY: Eric Vellend
Roasting fish on a bed of potatoes is a classic Catalan dish. For guests who prefer well-done salmon, use tail pieces which will cook through when thicker fillets are slightly underdone. Fennel pollen is a wonderfully fragrant spice: order it from silkroadspices.ca.
GREEN SAUCE
2 cups (500 mL) flat-leaf parsley leaves, firmly packed
3 tbsp (45 mL) capers, rinsed, patted dry
4 anchovy fillets, chopped
1 clove garlic, grated on rasp
Large pinch chili flakes
½ cup (125 mL) extra virgin olive oil
Salt and freshly ground pepper to taste
1 tbsp (15 mL) white wine vinegar

SALMON AND POTATOES
2 lbs (905 g) Yukon Gold potatoes (about 4 medium)
Salt
Extra virgin olive oil for brushing
2 tsp (10 mL) fresh thyme leaves
6 salmon fillets, 6 to 8 oz (170 to 225 g) each
Freshly ground pepper to taste
½ tsp (2 mL) fennel pollen or roughly ground fennel seed
24 olives, black or green
Lemon wedges for serving
1. For the sauce, place parsley, capers, anchovies, garlic and chili flakes in a food processor. Pulse until finely chopped. With motor running, add olive oil in a steady stream. Scrape down bowl and season with salt, if necessary, and pepper. Transfer to airtight container. Press plastic wrap against surface. Refrigerate up to 5 days. When ready to use, bring to room temperature and stir in vinegar.

2. For the salmon and potatoes, preheat oven to 425°F (220°C).

3. Slice potatoes into ⅛-inch-thick (3-mm) rounds on mandoline. Place in a medium pot. Cover with water and swirl potatoes to release starch. Drain and repeat. Add enough water to cover potatoes by 1 inch (2.5 cm). Bring to boil over high heat. When it comes to a boil, season generously with salt and reduce heat to simmer. Cook 2 minutes—the potatoes should be underdone. Drain and transfer to baking sheet lined with paper towel. Pat potatoes dry with more paper towel.

4. Line a large, heavy-duty baking sheet with parchment paper. Brush generously with olive oil. When potatoes are cool enough to handle, place in neat overlapping rows like roofing tiles. Brush with olive oil and sprinkle with thyme. Bake on middle rack until edges are brown and crispy, 30 to 35 minutes. Remove from oven.

5. Reduce oven to 275°F (140°C).

6. While potatoes are roasting, remove salmon from fridge and transfer to baking sheet. Brush with olive oil. Season with salt and pepper. Sprinkle with fennel pollen or ground fennel seeds.

7. When potatoes are done, place fish on top and sprinkle olives around fish. Return to oven and bake until fish is just slightly underdone— depending on thickness of fish, 14 to 20 minutes. (To check for doneness, insert the tip of a pairing knife into the thickest part and hold for 3 seconds. If the knife is warm when you remove it, the dish is ready. If the knife is still cool or barely warm, return dish to oven.) Serve with lemon wedges and sauce.
SHARE