Farinata Di Ceci Sandwich
Hiver 2016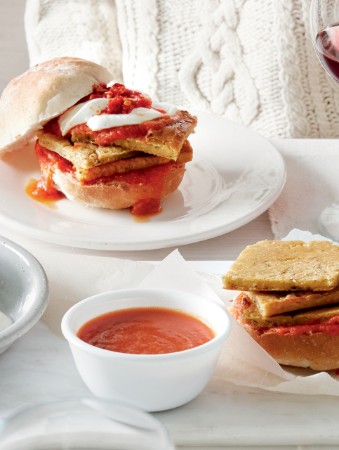 Farinata Di Ceci Sandwich
Hiver 2016
BY: Christopher St. Onge
A thin, savoury chickpea flour pancake, farinata di ceci is thought to be Italian in origin, but it's beloved in the south of France too, where it's known as socca. It's typically baked in a large circular pan in a very hot wood-burning oven, but it's delicious made in a home oven too. It is imperative that you use a heavy, good-quality baking sheet with rolled edges—thin, lightweight baking sheets tend to buckle with abrupt temperature changes and shouldn't be used here.
TOMATO SAUCE
¼ cup (60 mL) olive oil
2 cloves garlic, peeled
1 can (798 mL) Italian tomatoes, puréed
2 tbsp (30 mL) butter
1 small onion, peeled and quartered
1 tsp (5 mL) salt
1 cup (250 mL) water
Freshly ground black pepper to taste

FARINATA DI CECI
2½ cups (625 mL) garbanzo (chickpea) flour
1 tbsp (15 mL) salt
2 tsp (10 mL) freshly ground black pepper
3⅓ cups (830 mL) lukewarm water
⅔ cup (150 mL) olive oil, divided
1 tbsp (15 mL) chopped rosemary

8 oz (250 g) or 2 balls, buffalo mozzarella
6 soft buns, such as bap or potato rolls, split Preserved Italian chilies in oil (optional)
1 To make the tomato sauce, heat oil in a saucepan over medium-low. Add garlic and cook for 6 to 8 minutes, turning from time to time, until golden and soft. Remove and mash to a paste with a fork.

2 Add puréed tomatoes to pot; take note of the volume and thickness of tomato. Stir in garlic mash, butter, onion, salt and water. Bring to a simmer and cook for 30 to 35 minutes or until reduced by 1 cup (250 mL) and sauce is roughly equal in volume and thickness to the puréed tomatoes. Remove and discard onion; season to taste with pepper. Cover and keep sauce warm while preparing the Farinata di Ceci.

3 In a medium bowl whisk together garbanzo flour, salt, pepper, water and ⅓ cup (80 mL) olive oil until no lumps remain. Stir in rosemary.

4 Place a 1-inch-deep (2.5-cm) heavy-duty baking sheet, 12 x 17-inch (30 x 43-cm), on middle rack in oven and preheat to 500°F (260°C).

5 Pour remaining ⅓ cup (80 mL) olive oil onto sheet. Close oven and once oil is smoking, about 3 minutes, slide rack and pan halfway out. Pour batter into pan, coax into corners using a spatula, and gently push both rack and pan back into oven. Bake for 30 to 35 minutes or until deeply golden and crisp.

6 Meanwhile, drain mozzarella if necessary and slice each ball into 6 slices.

7 Using a pizza cutter, cut farinata into 24 squares. Spoon a small amount of warm sauce onto each of the bottom bun halves, divide farinata slices between them and top each with 2 slices of cheese. Top with desired amount of chilies if using. Divide remaining sauce between sandwiches and finish each by topping with remaining bun halves.
SHARE