Spicy Crab Wrap with Avocado Mayo
Automne 2007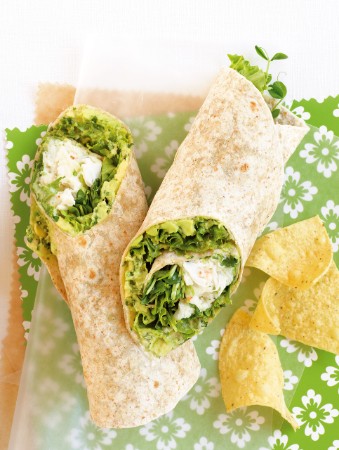 Spicy Crab Wrap with Avocado Mayo
Automne 2007
BY: Heather Trim
Creamy avocado stuffed with sweet crabmeat is a traditional pairing. Here we've turned it into an easy portable wrap. For extra crunch add peas or alfalfa sprouts.
2 tbsp (25 mL) mayonnaise
1 tbsp (15 mL) each finely
minced green onion and celery
Generous pinches of cayenne
170 g can salad crab, drained well
1 ripe avocado, peeled and pitted
3 tbsp (45 mL) finely chopped coriander
4 tsp (20 mL) lime juice
¼ tsp (1 mL) salt
2 large wraps
2 to 4 leaves Boston or leaf lettuce
1. Place 1 tbsp (15 mL) mayo, green onion, celery and cayenne in a bowl. Stir. Mix in crab.

2. Place avocado and remaining mayo in a bowl. Mash together until fairly smooth. Stir in coriander, lime juice, salt and generous pinches cayenne.

3. Spread half of avocado mayo over each wrap, nearly to edges. Top with 1 or 2 lettuce leaves. Divide crab mixture across bottom third of each wrap. Fold bottom of wrap towards centre. Fold both sides towards centre and roll tightly to seal and enclose filling. If not eating right away, wrap tightly in plastic wrap, then refrigerate. Cut in half diagonally before serving.
SHARE