Salt-Crusted Snapper
Holiday 2013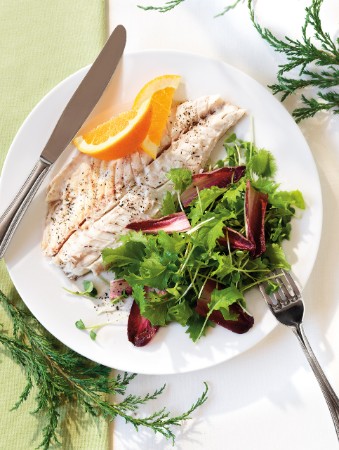 Salt-Crusted Snapper
Holiday 2013
BY: Emily Richards
This dish is like unwrapping a present for dinner. Crack the salt crust to reveal cooked, flavourful snapper that is delightful served up alongside a pilaf or simple salad greens. The aroma of the orange and parsley fill the kitchen to whet your appetite. You can also use this cooking method with whole trout or sea bream.
4 egg whites
3 cups (750 mL) kosher or coarse salt
2 whole snappers, dressed, about 3 lbs (1.5 kg)
1 navel orange, halved and sliced
10 sprigs of fresh flat leaf parsley
2 large sprigs of fresh thyme
4 cloves garlic, slivered
2 tsp (10 mL) whole black peppercorns
1 Preheat oven to 425°F (220°C).

2 Beat egg whites in a large bowl until foamy. Stir in salt until a thick paste forms. Spread salt mixture in a thin layer, reserving extra, onto a parchment or foil-lined baking sheet in a rectangle that will fit the fish.

3 Place snappers onto salt crust. Divide orange, parsley, thyme, garlic and peppercorns among insides of fish. Spread remaining salt mixture over top of snapper to coat evenly.

4 Bake for about 20 minutes or until salt is golden. Use a metal spoon to tap around the salt crust and lift up to remove. Peel off snapper skin and, using small palate knife, serve up fish.
SHARE