Salt-Baked Potatoes with Miso Creamed Kale
Autumn 2015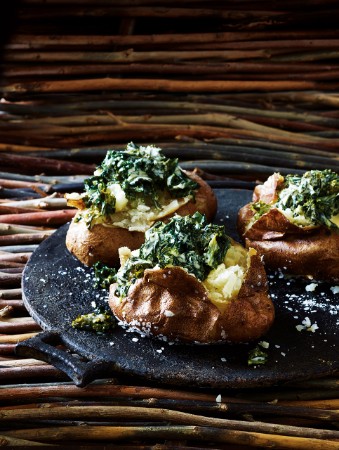 Salt-Baked Potatoes with Miso Creamed Kale
Autumn 2015
BY: Christopher St. Onge
Kale has deep mineral flavours that pair with earthy potatoes beautifully. This method of cooking the potatoes was adapted from one developed by America's Test Kitchen, and it's become my favourite way to bake potatoes. But make sure they're almost ready before you begin making the kale, otherwise you may eat all of the topping while waiting for the potatoes.
Kosher salt
4 medium russet potatoes, about 2 lbs (1 kg) total, whole, skins on
7 tbsp (105 mL) butter, divided
10 cups (2.5 L) chopped curly green kale, tough centre rib removed, about 1 bunch
1 cup (250 mL) whipping cream
¼ cup (60 mL) water
1 tbsp (15 mL) Japanese soy sauce
2 tsp (10 mL) white miso paste
½ cup (125 mL) finely grated Parmesan
1 Preheat oven to 450°F (230°C).

2 Create a bed of salt ½ inch (1 cm) deep in a shallow baking dish just large enough to accommodate potatoes. Arrange potatoes oversalt and cover dish with foil; bake for 65 to70 minutes, or until potatoes are very tender. Remove from oven.

3 Increase temperature to 500°F (260°C).

4 Loosen potatoes from salt and gently brush bottoms to remove excess salt. Melt 3 tbsp (45 mL) butter and brush over potatoes, return to salt bed and bake in oven for an additional 15 to 20 minutes, or until skins are deeply coloured and crisped.

5 While potatoes are in their final bake, melt remaining ¼ cup (60 mL) butter over medium heat in a large sauté pan with a tight-fitting lid. Add kale, cover and cook until just wilted, about 3 minutes. Meanwhile, whisk together cream, water, soy sauce and miso in a small bowl; pour over wilted kale, cover and cook 6 to 8 minutes longer or until kale is tender. Sprinkle Parmesan over and stir until cheese is melted and kale is coated in sauce.

6 Partially split potatoes and fluff interior with a fork. Divide kale mixture over potatoes.
SHARE