Salt-Baked Potatoes with Goat Cheese
Spring 2005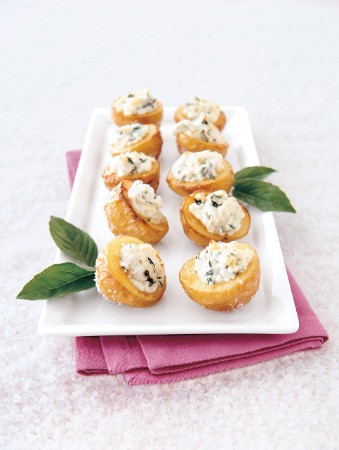 Salt-Baked Potatoes with Goat Cheese
Spring 2005
BY: Dana Speers
A bed of kosher salt serves 2 purposes. It prevents the potatoes from tipping over during baking and seasons them in the process.
3 cups (750 mL) kosher salt
18 small white potatoes, halved and scooped out slightly with a melon baller
2 tbsp (32 mL) olive oil
3 cloves garlic, sliced
14 oz (430 g) soft goat cheese, at room temperature
4 tsp (20 mL) chopped fresh thyme
Cracked black pepper, to taste

Garnish
36 small basil leaves
1. Preheat oven to 400ºF (200ºC).

2. Spread salt in the bottom of an extra-large rectangular baking dish.

3. In a large bowl, toss potatoes with 2 tbsp (25 mL) olive oil. Press potatoes, cut-side up, in salt. Roast potatoes for about 35 to 40 minutes or until tender when pierced with a knife. Remove potatoes from oven and cool slightly. Scrape excess salt from potatoes with spoon and place on a clean baking sheet.

4. Turn on the broiler. Heat remaining ½ tbsp (7 mL) olive oil in a small nonstick skillet. Add garlic slices and fry until golden and crisp, about 1 to 2 minutes. Transfer to a medium stainless-steel bowl. Add the goat cheese, thyme and black pepper. Stir to combine. With a teaspoon, divide goat cheese mixture among potato cups. Broil potatoes for about 1 minute or until bubbling. Serve potato cups garnished with basil leaves.
SHARE