Salmon Wellington with Arugula Hollandaise
Temps des Fêtes 2015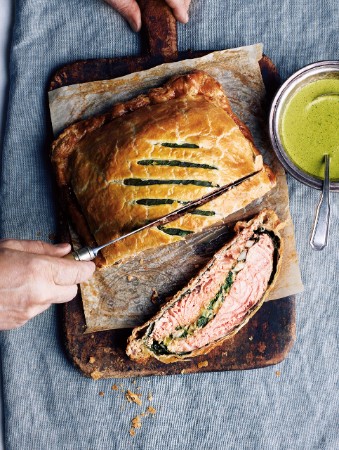 Salmon Wellington with Arugula Hollandaise
Temps des Fêtes 2015
BY: Lucy Waverman
An update of the old favourite Beef Wellington, this memorable main course can be prepared a day ahead and refrigerated until one hour before baking. I have served this cold on a buffet table and it is sensational because it slices so beautifully when cold. The hollandaise is made by a quick-and-easy-no-fail method. Serve with garlic green beans or a tartly dressed green salad.
6 to 8 leaves of chard
2 tbsp (30 mL) butter
3 cups (750 mL) sliced leeks, white and light green portions only
½ cup (125 mL) cream 6 cups (1.5 L) spinach
Salt and freshly ground pepper
8 oz (250 g) scallops, chopped
2 tsp (10 mL) paprika
1 tsp (5 mL) ground ginger
Pinch cayenne
1 tsp (5 mL) cinnamon
2 pieces (1½ lbs/750 g each) skinned salmon, preferably centre cut
1 pkg (450 g) pre-rolled puff pastry, thawed
1 egg, lightly beaten

ARUGULA HOLLANDAISE
½ cup (125 mL) butter
2 egg yolks
11/2 cups (375 mL) packed baby arugula
1/4 cup (60 mL) Greek yogurt
Salt and freshly ground pepper
1 Bring a pot of water to a boil and immerse chard leaves. Boil for 1 minute, then drain. Refresh with cold water and drain again. Dry leaves with a paper towel. Remove and discard stems.

2 Heat butter in a skillet over mediumlow heat. Add leeks and sauté until soft but not brown, about 6 minutes. Add cream and simmer until thickened, 1 to 2 minutes. Add spinach and cook for 2 more minutes or until spinach has wilted. Season with salt and pepper. Mix in scallops. Cool to room temperature.

3 Combine paprika, ginger, cayenne and cinnamon. Season both sides of salmon with salt, then sprinkle with spice mixture.

4 Preheat oven to 400°F (200°C).

5 Line a baking sheet with parchment paper. Place one 10inch (25cm) square piece of puff pastry on a lined baking sheet. Arrange 3 pieces of chard in centre of pastry, leaving a 1/2 inch (1cm) border. Brush edges with egg wash. Sprinkle chard with salt.

6 Place 1 piece of salmon on chard. Spread scallop mixture evenly over salmon. Top with second portion of salmon. Lay remaining chard leaves over fish, tucking in around the edges to wrap.

7 Roll second portion of pastry into a larger square, about 12 inches (30 cm). Lay overtop, enclosing salmon. Cut away any excess pastry and pinch pastry edges to form a package. Brush with remaining egg wash and cut slits into top of pastry.

8 Bake for 30 to 35 minutes or until pastry is golden and salmon is cooked.

9 For hollandaise, place butter in pot on medium heat and bring to boil. Meanwhile, place egg yolks, arugula and yogurt in food processor. Process until well combined. Pour bubbling butter slowly down through feeder tube while machine runs, scraping down the sides. Sauce will thicken. Season with salt and pepper. Serve warm.


SHARE