Salmon Tartare on Nori Chips
Holiday 2021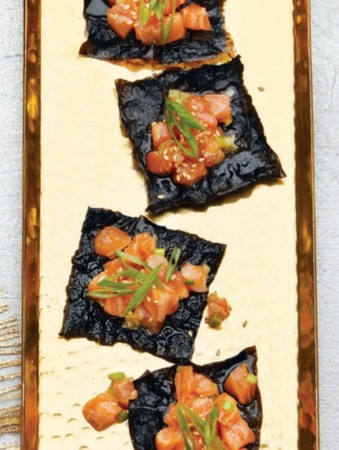 Salmon Tartare on Nori Chips
Holiday 2021
BY: Eric Vellend
Zippy with hot sauce and ginger, an Asian-inspired salmon tartare is served on delicate seaweed crisps. To keep the nori chips from going soggy, only assemble these hors d'oeuvre right before you are ready to serve them. The tartare is equally delicious made with sushi-grade tuna.
6 sheets nori
Sesame oil for brushing
Fine sea salt
9 oz (255 g) sushi-grade salmon
1 1/2 tsp (7 mL) canola oil
1 1/2 tsp (7 mL) tamari or quality soy sauce
1 tsp (5 mL) rice vinegar
1 tsp (5 mL) sesame oil
1 tsp (5 mL) Sriracha
1/2 tsp (2 mL) finely grated ginger
4 tsp (20 mL) finely chopped green onions
Toasted sesame seeds for garnish
1. Preheat oven to 250°F (121°C).

2. Place 1 nori sheet on the work surface with the smooth side up. Brush lightly with water and press another sheet on top with a smooth side up. Trim long end to form even square, then into 9 even squares. Place on parchment-paper-lined baking sheet. Brush lightly with sesame oil and season with a small pinch of salt. Repeat process with remaining nori. When you have a full tray, bake until dark and crisp, about 15 minutes. Cool completely. Transfer to an airtight container. (Chips can be made and stored at room temperature up to 5 days in advance.)

3. Using a sharp knife, remove and discard salmon skin and any grey flesh along the skin line. Cut into 1/4-inch (5 mm) dice and place in a mixing bowl. In a small bowl, whisk canola oil, tamari, rice vinegar, sesame oil, Sriracha and ginger until combined. Pour over salmon and add green onions. Season with salt. Mix thoroughly. Use immediately or cover and refrigerate for up to 1 hour.

4. Spoon tartare onto nori chips. Garnish with sesame seeds. Serve immediately.
SHARE