Salmon Potato Salad with Horseradish Cream
Summer 2006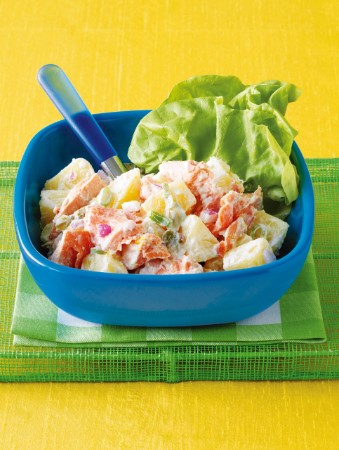 Salmon Potato Salad with Horseradish Cream
Summer 2006
BY: Marilyn Bentz-Crowley
Prepare this cold meal early in the day for dinner that's ready when you are. Bottled horseradish languishing in the refrigerator for months loses its zing; so, for zesty taste, spring for a new bottle.
1½ lbs (750 g) salmon fillet, skin on or off
1 lemon, divided
3 lb (1.5 kg) large round new or boiling potatoes
¾ cup (175 mL) regular or light sour cream
¾ cup (175 mL) regular or light mayonnaise
¼ cup (50 mL) prepared horseradish, squeezed dry
3 to 4 tbsp (45 to 60 mL) capers, drained
1 tsp (5 mL) salt
¼ tsp (1 mL) freshly ground black pepper
½ cup (125 mL) thinly sliced green onions or chives
½ cup (125 mL) finely diced red onion
1 head Boston lettuce (optional)
1. Check salmon and remove any bones. Zest lemon. Cut 3 thin slices; juice remaining lemon. Set aside zest and juice.

2. Pour 1-inch (2.5-cm) water in a shallow pan; add lemon slices. Heat water over medium-low until hot and barely simmering. Add salmon, skin-side down; cover. Reduce heat to low; poach 12 to15 minutes or until evenly pale pink. Drain salmon; transfer to a plate, cover and refrigerate immediately.

3. Steam potatoes over boiling water or generously cover potatoes with cold water in a large saucepan. Bring to a boil over high heat. Steam or gently boil, covered, for 25 to 30 minutes or until just tender when pierced with a skewer. Drain; cool.

4. In a large mixing bowl, stir sour cream with mayonnaise, horseradish, capers, 2 tsp (10 mL) lemon zest, 1 tbsp (15 mL) lemon juice, salt and pepper. Stir in green and red onions. Peel warm potatoes for a more refined look, then cut into bite-size chunks; add to dressing as cut. Using a large spoon or spatula, gently mix potatoes by lifting up from bottom of bowl and turning over. To aid in rapid cooling, make a well in the centre of the salad if in a bowl or spread out in a large baking dish or pan. Cover with plastic wrap and refrigerate several hours until cold.

5. When ready to serve, remove skin (if present) and scrape brownish fat off cold salmon; discard. Coarsely break up salmon. (Salmon naturally continues to break up when stirred into potatoes.) Stir potato salad gently; fold in salmon. Serve on a bed of Boston lettuce garnished with sprinkling of additional green and red onions.
Serves 6 to 8 as a main course
SHARE