Salmon Fillets with Umami Relish
Early Summer 2014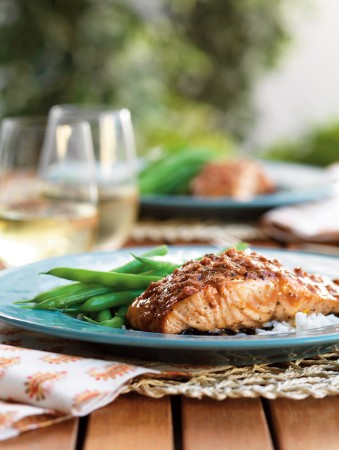 Salmon Fillets with Umami Relish
Early Summer 2014
BY: Lucy Waverman
Umami is sometimes described as deliciousness on a plate. That is precisely what this dish is. Serve with sautéed green beans orSwiss chard.
4 salmon fillets, each 6 oz (175 g), with skin
1 tbsp (15 mL) olive oil
Salt and freshly ground pepper

UMAMI RELISH
¼ cup (60 mL) grated Parmesan cheese
1 tbsp (15 mL) tomato paste
2 tsp (10 mL) chopped anchovies
1 tbsp (15 mL) light soy sauce
2 tbsp (30 mL) olive oil
1 Brush all sides of salmon fillets with olive oil, and season with salt and pepper.

2 Whisk together Parmesan, tomato paste, anchovies, soy sauce and oil.

3 Preheat grill to high.

4 Place fillets skin-side down on grill, close lid and grill for 7 to 9 minutes or until still slightly pink in the centre. Grill a few minutes longer to completely cook through if desired.

5 Place on 4 serving plates and brush over umami relish.
SHARE