Salmon Chops with Gooseberry Relish
Début de l'été 2018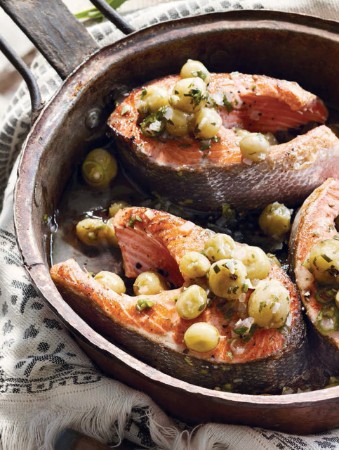 Salmon Chops with Gooseberry Relish
Début de l'été 2018
BY: Christopher St. Onge
Seek out wild coho salmon from a 6 to 8-lb (2.7 to 3.5-kg) fish. Aim for an internal temperature of 125° to 130°F (52° to 54°C).
1 tbsp (15 mL) grape-seed or canola oil
1 small shallot, finely chopped
1 tbsp (15 mL) Champagne vinegar or white wine vinegar
1 tbsp (15 mL) lime juice
3 tbsp (45 mL) honey
¼ cup (60 mL) water
2 tsp (10 mL) finely grated ginger
1½ cups (375 mL) gooseberries, tailed and topped
1 green finger chili, thinly sliced
1 tbsp (15 mL) finely chopped cilantro
1 green onion, finely chopped
4 wild coho salmon steaks, 1¼ inches (3 cm) thick, about 6 to 7 oz (175 to 210 g) each
Salt and freshly ground black pepper
1 tbsp (15 mL) grape-seed or canola oil
1 tbsp (15 mL) butter
1. For the relish, heat oil in a medium skillet on medium heat. Fry shallot until translucent, about 4 minutes. Whisk vinegar, lime juice, honey and water together in measuring cup; add to skillet along with ginger and gooseberries.

2. Reduce heat to low and gently simmer 13 to 16 minutes (add a little water if pan becomes dry) or until liquid is syrupy and gooseberries are tender but still whole. Stir in chili, cilantro and green onion; cook 1 minute longer; remove from heat. Turn out into non-reactive dish and refrigerate until chilled, about 3 hours. (Relish can be made up to 3 days in advance.)

3. Season salmon. Combine oil and butter in large skillet on medium-high heat. Once butter is foaming add fish; cook 3 minutes per side for medium-rare. Serve at once with relish.
SHARE