Salmon Carpaccio
Temps des Fêtes 2012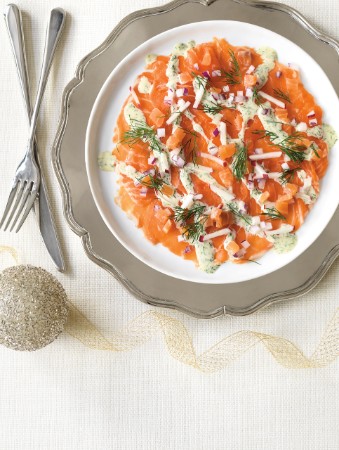 Salmon Carpaccio
Temps des Fêtes 2012
BY: Christopher St. Onge
Originally consisting of thinly pounded raw beef dressed with a Dijon mustard sauce, carpaccio was first served at Harry's Bar in Venice in response to a favoured customer's directive from her physician that she only eat raw meat. Here, wild salmon gets the same treatment, though with the addition of dill and a confetti of fresh onion and radish for textural contrast. You'll need plates with at least a 6-inch (15-cm) flat surface exclusive of the rim. As with most raw seafood preparations, choose only the freshest fish from a reputable fishmonger.
12 oz (375 g) very fresh centre-cut wild salmon fillet, skin and pin bones removed
¼ cup (60 mL) olive oil mayonnaise
2 tbsp (30 mL) Dijon mustard
1 tbsp (15 mL) apple cider vinegar
1½ tsp (7 mL) sugar
Pinch salt
¼ tsp (1 mL) freshly ground black pepper
3 tbsp (45 mL) finely chopped dill, plus extra fronds for garnishing
6 small radishes, julienned
½ small red onion, finely diced
3 oz (90 g) thinly sliced smoked salmon, diced
1 Cut salmon in half lengthwise through the centre. Cover and place in freezer for 30 to 45 minutes or until partially frozen. Using a sharp knife, cut into slices a scant ¼ inch (5 mm) thick. Working with 1 piece at a time, place between 2 sheets of plastic wrap and gently pound until thin and almost translucent.Line 6 plates with salmon slices, in a single layer slightly overlapping each other, to roughly 6-inch (15-cm) diameter rounds. Cover dishes with plastic wrap and refrigerate until chilled, at least 30 minutes. (Salmon may be prepped up to 4 hours in advance).

2 In a small bowl, whisk together mayonnaise, Dijon and cider vinegar. Add sugar, salt, pepper and chopped dill; stir until sugar is dissolved. Cover and refrigerate until ready to serve.

3 Remove plastic wrap from plates and drizzle each with a generous tbsp (15-plus mL) sauce. Divide radish and red onion between plates; sprinkle with smoked salmon and garnish with fresh dill sprigs. Serve cold.
SHARE