Salmon Cakes with Almonds on Assorted Greens
Été 2008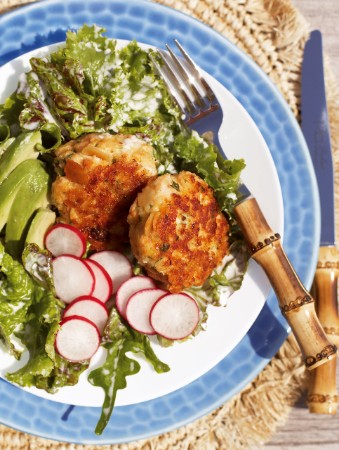 Salmon Cakes with Almonds on Assorted Greens
Été 2008
BY: Marilyn Bentz-Crowley
During the dog days of summer when temperature and humidity soar, it is indeed too hot to cook. Make these patties first thing in the morning then simply sauté them and dine coolly in the soft evening warmth on the patio or porch. These salmon cakes are a terrific appetizer―or main course, if served with a loaf of artisanal whole-wheat bread and semi-soft cheese such as dilled havarti.
Cakes
½ cup (125 mL) toasted slivered or sliced almonds
1 lb (500 g) fresh skinless, boneless salmon fillets
¼ tsp (1 mL) salt
1 egg
½ lemon
1½ cups (375 mL) fresh bread crumbs, divided
2 tbsp (25 mL) chopped fresh parsley
1 green onion, thinly sliced
2 tbsp (25 mL) olive oil

Dressing
½ cup (125 mL) buttermilk
½ cup (125 mL) mayonnaise
1 garlic clove, minced
2 tsp (10 mL) freshly squeezed lemon juice
1 tbsp (15 mL) prepared grated horseradish, squeezed dry
1 tsp (5 mL) Dijon mustard
¼ tsp (1 mL) salt
⅛ tsp (0.5 mL) freshly ground black pepper
2 tbsp (25 mL) finely chopped fresh parsley

Salad
1 ripe avocado
½ bunch arugula or watercress

1 Belgian endive or a handful or 2 of frisée
1 small head leaf lettuce, torn
6 to 8 large garden-fresh radishes, thinly sliced
1. Pulse almonds in food processor until coarsely chopped; turn into a mixing bowl. Trim salmon of any skin remnants and brown fat; discard. Cut salmon into chunks; add to food processor along with salt. Pulse until just chopped, not a purée. (fish should have a texture of hamburger meat). Add to almonds; drop in egg.

2. Zest lemon half and squeeze juice; add to chopped salmon. Add 1 cup (250 mL) bread crumbs and green onion; work with your hands like a meat loaf or stir until mixed and clumpy.

3. Line a tray with waxed or parchment paper. Shape salmon mixture into eight ¾-inch-thick (2-cm) patties about 3 inches (8 cm) in diameter. Turn remaining ½ cup (125 mL) bread crumbs into a plate; dip patties, pressing in a few crumbs onto both surfaces. (If making ahead, immediately cover and refrigerate for up to half a day.)

4. Slowly whisk buttermilk into mayonnaise; then stir in garlic, lemon juice, horseradish, mustard, salt and pepper until well mixed. Stir in parsley. (Covered and refrigerated, dressing keeps well for a day or 2; stir before using.)

5. Cakes can be sautéed or broiled. To sauté, heat oil in a large frying pan over medium heat. Add cakes; if any separate, simple press together again. Cook cakes for 5 minutes per side or until golden and crispy. Or to broil, arrange oven rack 4 to 5 inches (10 to 12 cm) from broiler unit; preheat. Spread oil on baking sheet just large enough to fit cakes; add salmon cakes, placing slightly apart. Flip cakes to coat both sides with oil. Broil 6 to 8 minutes per side or until golden. Serve warm or at room temperature.

6. Peel, seed and dice avocado. Remove any thick stems from arugula or watercress; separate leaves of endive. Measure arugula and endive, adding enough lettuce for 8 to 9 cups (2 to 2.25 L). Toss with just enough dressing to lightly coat. Arrange on chilled serving plates; scatter with radishes and avocado. Top with salmon cakes; drizzle with more dressing. Pass remaining dressing in a pitcher.
Makes 4 main courses or 8 appetizers
SHARE