Tossed Salad with Harvest Nuts & Cranberries
Temps des Fêtes 2016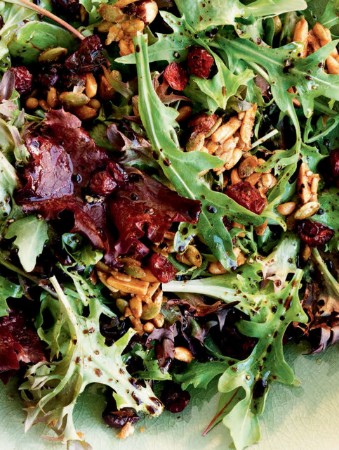 Tossed Salad with Harvest Nuts & Cranberries
Temps des Fêtes 2016
BY: Marilyn Bentz-Crowley
This delicious fruit and nut mixture to add to tossed salads is a signature dish of Chef Joanna Ward Malan. Personalize the salad with additional items such as sliced Bosc pear or crisp apple, diced ripe avocado and crumbled feta cheese. The nut mixture combination can be changed based on what's on hand.
NUTS & FRUIT
½ cup (125 mL) each of pine nuts, coarsely chopped hazelnuts, sliced or slivered almonds, pumpkin seeds and sunflower seeds
2 tbsp (30 mL) olive oil
3 tbsp (45 mL) maple syrup
2 tbsp (30 mL) brown sugar
½ tsp (2 mL) salt
¾ tsp (4 mL) hot-smoked or regular paprika
½ to ¾ cup (125 to 175 mL) dried cranberries or cherries

SALAD
12 to 16 cups (3 to 4 L) mixed salad greens
⅓ cup (80 mL) olive oil
¼ cup (60 mL) balsamic vinegar
2 tsp (10 mL) maple syrup
¼ tsp (1 mL) salt
Several grindings of black pepper
1 Preheat oven to 350°F (180°C).

2 Combine pine nuts, hazelnuts, almonds, pumpkin seeds and sunflower seeds in a large bowl. Mix olive oil with maple syrup, brown sugar, salt and paprika in a small saucepan; place over medium heat for 3 to 5 minutes until hot, but not boiling.

3 Pour hot mixture over nuts and seeds; toss until coated. Turn out onto parchment-paper-lined, rimmed baking sheet; spread out in a thin layer. Bake 10 minutes, then stir and spread out again. Bake another 10 to 12 minutes or until lightly browned. Remove from oven and sprinkle with cranberries; cool.

4 Break up fruit and nut mixture into small clusters; store sealed in canning jars. Mixture keeps well for a month if stored airtight.

5 When ready to serve, place greens in a large salad bowl. Whisk oil with vinegar, maple syrup, salt and pepper. Drizzle vinaigrette over salad to taste; toss. Sprinkle with some nut mixture; serve right away. Any remaining vinaigrette can be stored in the refrigerator.
Makes 4 cups (1 L) nut mixture; salad serves 8 to 10
SHARE