Grilled Corn, Black Bean and Tomato Salad with Smoked Cheese Biscuits
Autumn 2005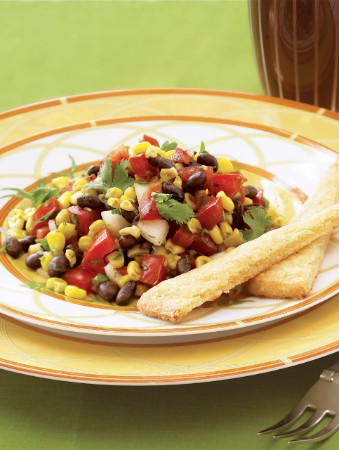 Grilled Corn, Black Bean and Tomato Salad with Smoked Cheese Biscuits
Autumn 2005
BY: Lucy Waverman
A pretty fall salad with a southwestern flavour. The chipotle gives the smokiness but if it's not available, use Asian chili sauce or hot sauce.
2 ears corn
1 jalapeño pepper
1 tbsp (15 mL) olive oil
4 plum tomatoes, seeded and diced
2 cloves garlic, minced
1 cup (250 mL) chopped Spanish onion
½ cup (125 mL) cooked or canned black turtle beans
3 tbsp (45 mL) chopped basil or coriander

Dressing
2 tbsp (25 mL) olive oil
1 tsp (5 mL) honey
2 tbsp (25 mL) lime juice
1 tsp (5 mL) chopped chipotle pepper
Salt and freshly ground pepper to taste
1. Brush corn and jalapeño with oil. Grill on high heat for about 5 minutes, turning corn occasionally or until kernels are flecked with gold and jalapeño looks charred. Remove skin and seeds from jalapeño and chop. Slice kernels off cob with a sharp knife. Combine corn, jalapeño, tomatoes, garlic and onions with black beans and basil or coriander.

2. Stir together olive oil, honey, lime juice and chipotle. Toss with vegetable mixture and season with salt and pepper to taste. Serve with Smoked Cheese Biscuits (recipe follows).

Smoked Cheese Biscuits
½ cup (125 mL) all-purpose flour
½ tsp (2 mL) dry mustard
Pinch cayenne
Salt and freshly ground pepper
¼ cup (50 mL) butter, diced
1¼ cup (300 mL) grated, smoked provolone or mozzarella
1. Mix together flour, mustard, cayenne, salt and pepper in a food processor or by hand. Add butter and pulse until butter is the size of small peas. Add cheese and pulse until mixture just begins to come together. Roll dough into a log about 5-inches (12-cm) long and 1½-inches (4-cm) in diameter. Wrap in plastic and chill in the refrigerator for 30 minutes or until firm.

2. Preheat oven to 375ºF (190ºC).

3. Carefully cut cylinders of dough lengthwise into ¼-inch thick (5-mm) slices. Place 2-inches (5-cm) apart on a baking sheet and bake for 13 to 15 minutes or until golden. Place on a rack to cool. While still warm, cut on the diagonal into long triangles. Serve 2 triangles per person. You can also cut into rounds and serve 3 rounds per salad.
SHARE