Mâche Salad with Fennel, Fresh Corn & Tarragon
Summer 2016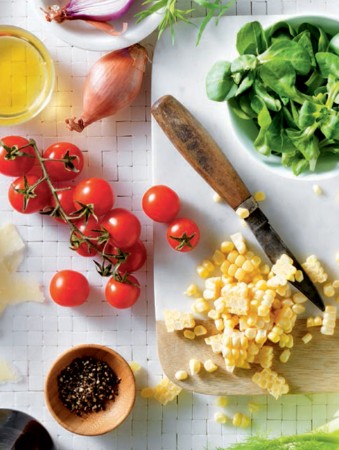 Mâche Salad with Fennel, Fresh Corn & Tarragon
Summer 2016
BY: Eshun Mott
This easy salad makes the most of flavourful summer vegetables. Salting the fennel softens it slightly, making it perfect for a salad. In season, fresh corn is even more delicious raw than cooked and gives a great sweet crunch to this salad.
1/2 bulb of fennel, stalks and core removed
1/4 tsp (1 mL) salt

TARRAGON VINAIGRETTE
⅓ cup (80 mL) extra virgin olive oil
2 tbsp (30 mL) sherry vinegar
2 tsp (10 mL) honey
1 tbsp (15 mL) finely chopped shallot
1 tbsp (15 mL) chopped fresh tarragon
Salt

1/4 cup (60 mL) thinly shaved Parmesan cheese
1 1/2 cups (375 mL) cherry tomatoes, halved
2 small ears of very fresh corn, kernels cut off
4 cups (1 L) mâche florets
1 Use a mandolin or a vegetable peeler to shave the fennel into long thin strips. Toss with salt and put in a colander to soften for 15 minutes. Rinse with cold water and pat dry with paper towels.

2 Whisk together olive oil, sherry vinegar, honey, shallot and tarragon and season with salt to taste.

3 Divide fennel between serving plates. Top with shaved Parmesan, cherry tomatoes, corn and mâche. Drizzle each plate with 1 to 2 tbsp (15 to 30 mL) vinaigrette and serve right away.
SHARE