Summer Squash Salad with Pine Nut Vinaigrette
Early Summer 2011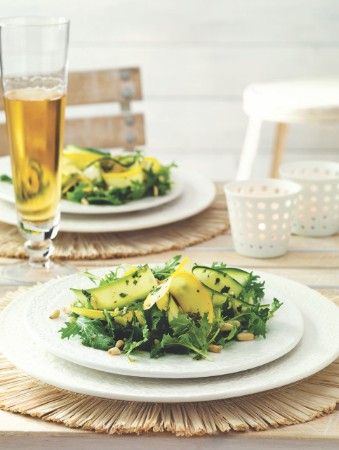 Summer Squash Salad with Pine Nut Vinaigrette
Early Summer 2011
BY: Marilyn Bentz-Crowley
Early season yellow and green squashes are the dainty version of the huge "zooming zucchinis" that develop as summer progresses. These squash are quite delicious used raw in this kind of salad, however, they require à-la-minute tossing with the dressing.
2 to 3 green zucchini
2 to 3 yellow summer squash
¼ cup (50 mL) toasted pine nuts plus 2 tbsp (25 mL) for garnish
¼ cup (50 mL) olive oil
1 tbsp (15 mL) lemon juice
2 tsp (10 mL) finely chopped fresh mint
2 tsp (10 mL) liquid honey
½ tsp (2 mL) salt
Several grindings of black pepper
6 cups (1.5 L) baby salad greens
1. To prepare zucchini and squash, cut off stem ends. Using a vegetable parer or mandoline slicing blade, very thinly cut lengthwise into long ribbons until there is a generous 4 cups (1 L). Avoid including seedy interior; discard that. (If not serving right away, cover and refrigerate for up to half a day.)

2. Coarsely crush ¼ cup (50 mL) pine nuts in a mortar and pestle or by briefly pulsing in the blender until just crushed, and not a nut butter. Stir olive oil with juice, mint, honey and seasonings until well combined. Stir in crushed pine nuts. (If making ahead, cover and refrigerate, then bring to room temperature before using.)

3. Line serving plates with greens. The squash waters-out quickly when dressed, so just before serving, toss squash strips with dressing. Pile squash overtop greens and sprinkle with reserved whole pine nuts. Serve immediately.


SHARE