Dilled Cucumber and Belgian Endive Salad
Temps des Fêtes 2007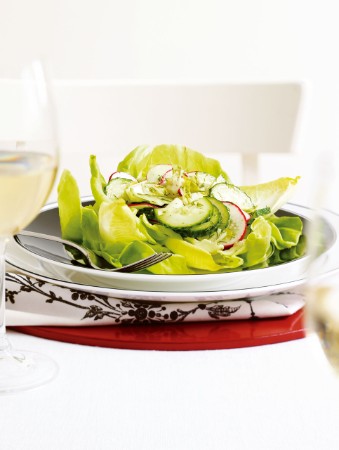 Dilled Cucumber and Belgian Endive Salad
Temps des Fêtes 2007
BY: Jennifer MacKenzie
A refreshing crisp salad is the perfect accompaniment to the Lobster Tarragon Crepes or a great starter for any winter meal. The bright green dressing will lose a little of its vibrant colour if made a day ahead but it still tastes delicious. The salad keeps its crispness for about an hour with the dressing on it so you can get it ready and have it waiting in the fridge a little ahead of serving time.
¼ cup (50 mL) packed fresh dill sprigs
¼ cup (50 mL) canola or light olive oil
2 tbsp (25 mL) rice or white wine vinegar
½ tsp (2 mL) granulated sugar
½ tsp (2 mL) Dijon mustard
Salt and freshly ground pepper
3 heads Belgian endive
Half of an English cucumber
4 radishes, thinly sliced
Butter lettuce leaves
1. Combine dill, oil, vinegar, sugar and mustard in a blender and purée until smooth. Transfer to a large bowl and season to taste with salt and pepper. Set aside.

2. Trim off bottom of endives and separate 12 outer leaves. Wrap separated leaves in damp paper towel and refrigerate until serving. Cut remaining heads of endive in half lengthwise and cut out cores. Cut crosswise into slices and add to dressing in bowl. Cut cucumber in half lengthwise and cut crosswise into thin slices. Add to the bowl with radishes and toss to coat. The salad can be covered and refrigerated for up to 1 hour.

3. To serve, place leaves of butter lettuce and reserved whole endive leaves on plates. Top with cucumber mixture, drizzling with any dressing left in the bowl.
SHARE