Sesame Cucumber Salad
Holiday 2006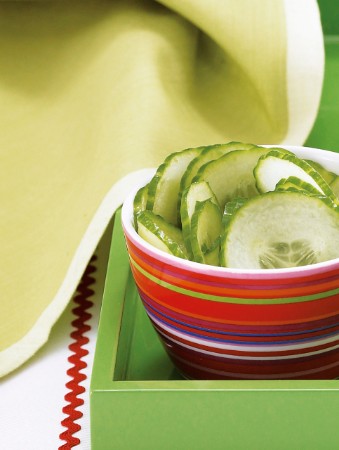 Sesame Cucumber Salad
Holiday 2006
BY: Emma Waverman and Eshun Mott
This light salad manages to make a boring cucumber so much more appealing. The dressing pickles the cucumber slightly, drawing the liquid out of it, so don't make it more than 4 hours ahead of serving or it will loose its crunch entirely.
2 tbsp (25 mL) white vinegar
1 tbsp (15 mL) sugar
1 tbsp (15 mL) sesame oil
1 tsp (5 mL) salt
1 English cucumber
1. Combine vinegar, sugar, sesame oil and salt.

2. Slice cucumber thinly and toss with dressing. Let sit for 30 minutes to marinate before serving.
Serves 4 as a small side dish
SHARE