Kale Salad with Raisins & Almonds
Automne 2012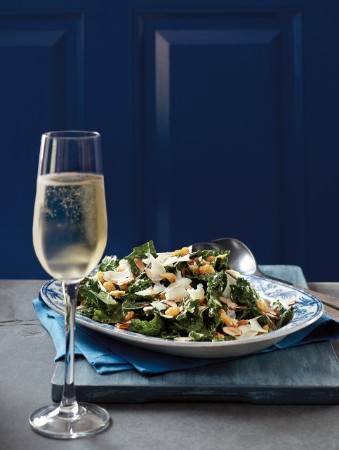 Kale Salad with Raisins & Almonds
Automne 2012
BY: Nicole Young
Golden raisins maintain their flavour, shape and texture making them ideal for dressings and preserves. Sometimes referred to as muscats, they are made from white grapes that are seeded and oven-dried and treated with sulphur dioxide to maintain their light colour.Thompson raisins are sometimes treated in this same way to keep their colour light. Raw Kale? There are a couple of tricks to enjoying this hearty green uncooked. Removing the stems and centre ribs eliminates the bitterness, and allowing them to marinate for 10 to 15 minutes softens the leaves to the perfect tenderness for eating.
½ cup (125 mL) golden raisins
2 tbsp (30 mL) white balsamic vinegar, divided
1 tbsp (15 mL) cider vinegar
1 tbsp (15 mL) liquid honey (preferably Manuka)
1 tbsp (15 mL) extra virgin olive oil
½ tsp (2 mL) salt
¼ tsp (1 mL) red pepper flakes
1 lb (500 g) Tuscan kale, stems and centre ribs removed and sliced crosswise
2 tbsp (30 mL) lightly toasted sliced natural almonds
¼ cup (60 mL) shaved Parmesan
1 In a small bowl, combine raisins with the white balsamic vinegar. Let soak for 2 hours, stirring occasionally. Drain raisins, reserving liquid.

2 Whisk together soaking liquid with cider vinegar, honey, oil, salt and red pepper flakes. Toss with kale and raisins to coat. Let marinate at room temperature, tossing occasionally, for 15 minutes.

3 Transfer to platter and sprinkle with almonds and shaved Parmesan.
SHARE