Raw Kale Slaw
Summer 2011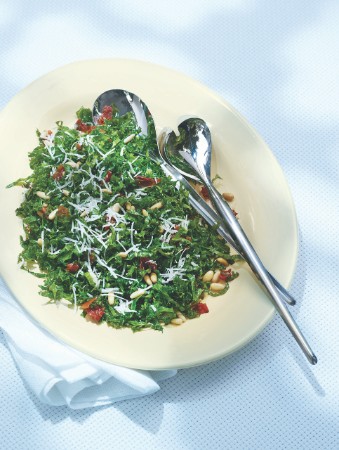 Raw Kale Slaw
Summer 2011
BY: Christopher St. Onge
You can never eat too many good-for-you veggies, and kale is about as good as it gets. If you happen to find a jar of oil-packed semi-dried tomatoes (or better yet semi-dried cherry tomatoes) at your local grocer, try these instead of sun-dried tomatoes. The semi-dried version is softer and gives up more of its tomato flavour to the slaw. Check the labels on olive oil to determine which is described as fruity.
1 large bunch kale
½ cup (125 mL) fruity extra virgin olive oil
3 tbsp (45 mL) red wine vinegar
1 clove garlic, finely chopped
½ tsp (2 mL) salt
¼ cup (60 mL) pine nuts, toasted
½ cup (125 mL) oil-packed sun-dried tomatoes, drained and chopped
Grated Parmesan cheese to garnish
1 Trim and discard the thick centre rib from each kale leaf. Stack the leaves and cut into thin strips across the width.

2 In a large bowl, toss leaves with the olive oil, vinegar, garlic, salt, pine nuts and tomatoes. Let salad stand at room temperature for 15 minutes to allow the flavours to blend and the kale to soften slightly. Check for seasoning and finish with a generous handful of freshly grated Parmesan cheese.
SHARE