Simple Winter Slaw
Hiver 2014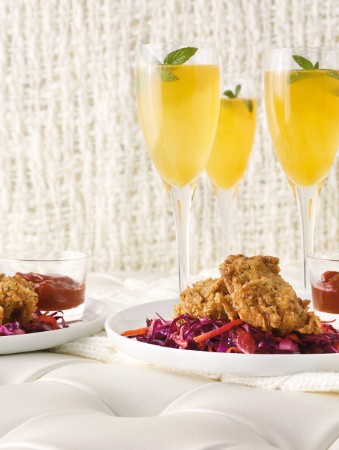 Simple Winter Slaw
Hiver 2014
BY: Signe Langford
Slaw is a classic and cooling accompaniment with crunchy fried chicken and spicy sauce. This one also happens to be pretty, in shades of pink and red.
1½ tsp (7 mL) yellow mustard seeds
⅓ cup (80 mL) olive or other vegetable oil such as canola or sunflower
¼ cup (60 mL) apple cider vinegar
1 tsp (5 mL) runny honey
½ tsp (2 mL) sea salt, or more to taste
Black pepper to taste
1 small beet, peeled and grated
1 apple, grated
4 cups (1 L) shredded cabbage, red or green(about half a head)
½ Vidalia or red onion, finely diced
1 large carrot, peeled and grated
1 In a dry skillet over medium heat, toast the mustard seeds until the colour begins to change and the seeds start to pop. Immediately, transfer seeds to a large, non-reactive bowl.

2 To the mustard seeds, add the oil, vinegar, honey, salt and pepper, and whisk until emulsified or well incorporated.

3 To the vinaigrette, add the beet, apple, cabbage, onion and carrot, and toss well until evenly coated with the vinaigrette.

4 Set aside in the fridge to chill.
Makes about 6 cups (1.5 L)
SHARE