Charred Carrot Salad with Raita & Cilantro Oil
Début de l'été 2018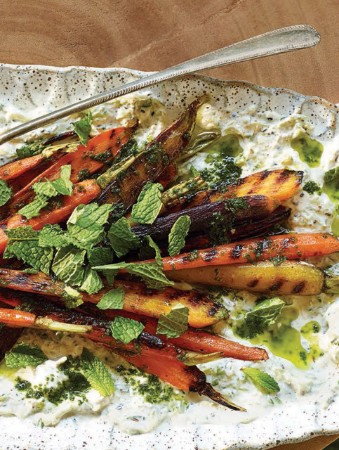 Charred Carrot Salad with Raita & Cilantro Oil
Début de l'été 2018
BY: Donna Borooah
Carrots have an earthiness that is complemented by the fragrant sweetness of orange. Raita is traditionally served with spicy foods because cucumber and yogurt add cool relief. Nigella seed brings an onion-like peppery bite to the otherwise cooling sauce. Nigella seed is also known as black cumin or kalonji. Cilantro oil keeps for 1 month. Add leftover cilantro oil to vinaigrettes, drizzle over fresh cheeses or into rice dishes.
2 tbsp (30 mL) vegetable oil, plus more for grill
12 heirloom carrots, about 1½ lbs (750 g)
Salt and freshly ground pepper
¼ cup (60 mL) orange juice

RAITA
½ English cucumber, seeded
½ tsp (2 mL) cumin seed
½ tsp (2 mL) nigella seed
½ cup (125 mL) plain yogurt
1 small garlic clove, finely grated
2 tbsp (30 mL) chopped mint
Salt and freshly ground pepper

CILANTRO OIL
½ cup (125 mL) vegetable oil
½ cup (125 mL) cilantro leaves and stems
¼ cup (60 mL) parsley leaves
Salt to taste
Mint leaves, torn
1. Heat grill over medium-high heat. Oil grill grates lightly.

2. Scrub or peel carrots then halve lengthwise. Toss carrots with 2 tbsp (30 mL) oil and season with salt and pepper.

3. Grill carrots until tender and charred in spots, about 7 to 10 minutes, depending on thickness, flipping occasionally.

4. Remove carrots to a dish and drizzle with orange juice while hot. (Can be made and refrigerated up to 2 days ahead; bring to room temperature before assembling the salad.)

5. Grate cucumber into a bowl. Toss with ½ tsp (2 mL) salt. Let sit for 10 minutes to release water. Roll cucumber in paper towel to remove excess water; reserve in a mixing bowl.

6. Heat a small skillet over medium heat. Add cumin seeds and toast until fragrant, about 1 minute. Transfer cumin to a mortar and pestle with nigella seeds. Grind spices until crushed but not powdered.

7. Add yogurt, spices, garlic and mint to reserved cucumber. Season to taste with salt and pepper. Chill until ready to serve (can be made 1 day ahead).

8. Place oil, cilantro and parsley in a blender. Blend until smooth and bright green, season with salt and reserve chilled.

9. To assemble, spread raita on a serving platter. Arrange charred carrots on top, drizzle with cilantro oil and torn mint leaves.
SHARE