Roasted Beet Salad with Horseradish Cream Dressing
Spring 2004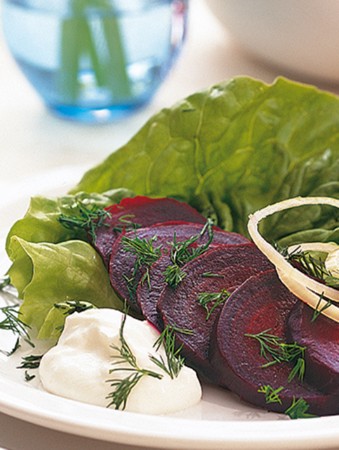 Roasted Beet Salad with Horseradish Cream Dressing
Spring 2004
BY: Jennifer MacKenzie
The combination of sweet beets and the hot horseradish is a must for the Easter celebration. Usually served as a relish called tsvikly, made with shredded fresh beets and horseradish, this salad is a variation on the presentation but captures the same festive flavours. For a more colourful salad, use a combination of red and yellow beets.
2 bunches beets (about 6)
Salt and freshly ground pepper
1 cup (250 mL) whipping cream
1/4 cup (50 mL) sour cream
1 tbsp (15 mL) prepared horseradish
1 small sweet onion
2 heads Boston lettuce
2 tbsp (25 mL) chopped dill
1. Preheat oven to 375ºF (190ºC).
2. Wash and trim beets. Do not peel. Place on a large piece of foil and sprinkle with salt and pepper. Fold up loosely into a package, sealing seams tightly.
3. Place foil package on a baking sheet. Roast for 1 to 1 1/2 hours or until tender. Open foil and let cool.
4. Peel and slice beets. Set aside until serving or cover and refrigerate up to 1 day. Bring to room temperature before serving.
5. Whip cream until thick but not stiff. Fold in sour cream and horseradish. Season with salt and pepper. Keep refrigerated until serving.
6. To serve, slice onion into thin rings, separating layers. Divide lettuce leaves among serving plates. Top with beet slices and onion rings and drizzle with dressing. Sprinkle with dill and season with salt and pepper.
SHARE