Beet & Wild Rice Salad
Temps des Fêtes 2018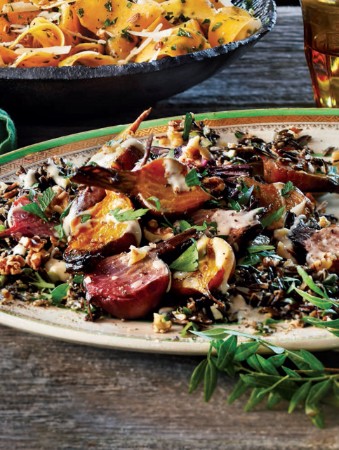 Beet & Wild Rice Salad
Temps des Fêtes 2018
BY: Christopher St. Onge
A good beet salad is always welcome and the dressing here—a little sweet, a little nutty— pulls it all together. If you can get your hands on a colourful assortment of beets the salad will look as beautiful as it tastes. If you scrub the beets well, there's no need to peel them before roasting and serving. Both the dressing and the beets may be made ahead, but the rice is best made only a couple of hours before you plan to serve the salad.
3 bunches (15 to 18 beets total) small beets, preferably with greens
2 tbsp (30 mL) olive oil
1 strip orange peel, white pith removed, 6 inches (15 cm) long
1 bay leaf
1 tsp (5 mL) coriander seeds
¼ tsp (1 mL) cumin seeds
Salt and freshly ground black pepper
1 cup (250 mL) wild rice

DRESSING
1 tbsp (15 mL) miso
¼ cup (60 mL) orange juice
2 tbsp (30 mL) white wine vinegar
2 tbsp (30 mL) well-stirred tahini
2 cloves garlic
2 tsp (10 mL) honey
½ cup (125 mL) olive oil
¼ tsp (1 mL) orange zest
Salt and freshly ground pepper to taste
4 green onions, chopped
½ cup (125 mL) roughly chopped toasted walnuts
¼ cup (60 mL) chopped parsley
1. Heat oven to 350°F (180°C).

2. Trim beets of greens, leaving 1 inch (1 cm) of stems; scrub with a stiff brush. Cut beets in half and arrange on a large baking sheet. Drizzle with oil and tuck in orange peel and bay leaf; sprinkle coriander and cumin seeds over. Season generously with salt and pepper. Cover tightly with foil and bake in oven for 1 hour (beets may be prepared to this point, refrigerated for up to 3 days and returned to room temperature before assembling salad).

3. Meanwhile, cook rice in plenty of salted boiling water for 45 to 50 minutes or until tender; drain and cool to room temperature.

4. For the dressing, combine miso, orange juice, vinegar, tahini, garlic and honey in a blender; process until smooth. With the motor running, slowly drizzle in oil until incorporated. Stir in zest; season to taste with salt and pepper (dressing may be made 3 days in advance, refrigerated until ready to serve and returned to room temperature before use).

5. To assemble salad, combine rice, green onions and half the dressing in a bowl; toss to combine and season to taste with salt and pepper. Arrange beets overtop; scrape any collected juices and any spices left behind over salad (salad may be assembled to this point and covered with plastic wrap to transport).

6. Just before serving, drizzle remaining dressing over, scatter with walnuts and sprinkle with parsley.
SHARE