Cashew & Peppered Beef Salad on a Bed of Endive
Autumn 2013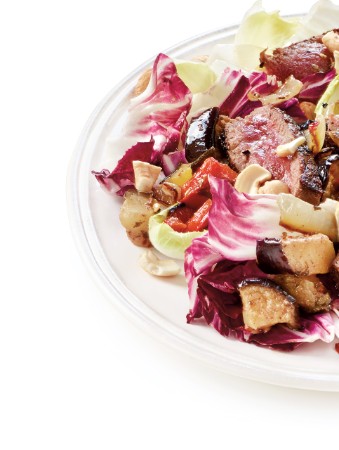 Cashew & Peppered Beef Salad on a Bed of Endive
Autumn 2013
BY: Marilyn Bentz-Crowley
This recipe was selected as one of our Editor's favourites in our 20th Anniversary Autumn 2013 issue. The recipe originally appeared in the Autumn 2006 issue.

This meaty medley is a terrific starter, or in larger portions can be a light entrée. Serve with epi, the decorative leaf-like form of baguette that is so easy to pull apart.
1 medium eggplant, unpeeled
1 medium onion
1 large sweet red pepper
2 medium zucchini
1/3 cup (75 mL) olive oil
3 tbsp (45 mL) red or white wine vinegar
1 large clove garlic, minced
1 tsp (5 mL) Dijon mustard
2 tsp (10 mL) finely chopped fresh thyme or ¼ tsp (1 mL) dried
½ tsp (2 mL) salt
¼ tsp (1 mL) dried chili flakes
2 strip-loin steaks, about 1-inch (2.5-cm) thick
Salt and freshly ground black pepper
1 head radicchio
1 large Belgian endive
1½ cups (375 mL) roasted and salted cashew pieces
1 Slice eggplant and onion into ½ -inch-thick (1-cm) slices. Cut pepper in half and seed. Slice zucchini lengthwise ¼-inch (5-mm) thick. Whisk olive oil with vinegar, garlic, mustard, thyme, salt and chili flakes. Trim most of fat from edges of steak; discard. Liberally season steak on both sides with salt and black pepper.

2 Preheat barbecue until hot.

3 Lightly brush cut sides of vegetables on both sides with some of the olive oil mixture; pour remainder into a large mixing bowl. Grill vegetables until softened and tinged with brown (about 5 to 10 minutes depending on barbecue heat). Remove vegetables to a plate as they are cooked.

4 While vegetables are cooling, grill steak on hottest part of barbecue for 4 to 5 minutes per side or until medium-rare with juices just beginning to rise. Remove to a cutting board.

5 Cut vegetables into bite-size pieces; add to olive oil mixture in bowl as cut. Thinly slice steak into strips about ¼-inch (5-mm) thick; add to vegetables. Toss vegetables and steak.

6 Decoratively line serving platter or individual plates with radicchio and endive leaves. Set aside half the cashews for garnish; stir remaining half into salad. Heap salad onto radicchio; garnish with cashews. Serve right away.
Makes 4 main-course or 8 side servings
SHARE