Warm Shaved Brussels Sprout Salad with Roquefort & Hazelnuts
Temps des Fêtes 2013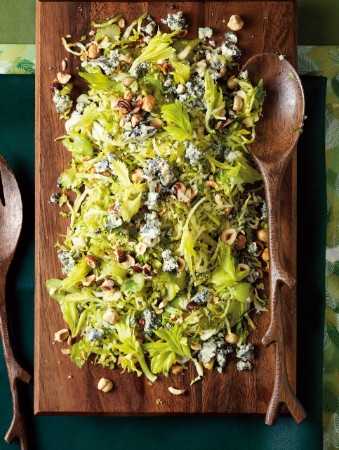 Warm Shaved Brussels Sprout Salad with Roquefort & Hazelnuts
Temps des Fêtes 2013
BY: Victoria Walsh
Stir-frying Brussels sprouts retains their crunch while bringing out a delicious nutty flavour, making them a perfect base for a drizzle of tart dressing and a sprinkling of blue cheese and hazelnuts.
¼ cup (60 mL) hazelnuts or whole filberts
1 lb (500 g) Brussels sprouts
3 ribs of celery hearts including leaves
2 tbsp (30 mL) olive oil
3 tbsp (45 mL) white-wine vinegar
1 tsp (5 mL) honey
Pinches of salt and pepper
2 oz (60 g) blue cheese, such as Roquefort, crumbled
1 Preheat oven to 350°F (180°C). Toast hazelnuts on a baking sheet until fragrant, about 5 to 7 minutes. When cool enough to handle, place in a kitchen towel. Rub hazelnuts with towel to remove skins. Coarsely chop.

2 Meanwhile, trim and thinly shave Brussels sprouts and celery. Coarsely chop celery leaves and set aside. Heat oil in a large frying pan set over medium-high heat. Add Brussels sprouts. Cook, stirring often, for 2 minutes. Add celery, reserving leaves. Continue to cook for 2 to 3 more minutes until warm. Remove from heat.

3 While pan is still hot, stir in vinegar, honey, salt and pepper. Serve salad warm, topped with celery leaves, hazelnuts and cheese.
Makes 4 appetizer or side-dish servings
SHARE